One of my favorite web comics is Sandra and Woo, which comic notices that cute funny animals are still inclined to eat other cute funny animals, and that little girls develop a sex drive at a disturbingly early age.
Recently the comic committed an act of political incorrectness. I fear they will be brought to heel as Sinfest was. Sinfest has never been funny since they turned politically correct. The entire Sinfest premise is gutted if the comic cannot make fun of sluts hypergamy female sexual autonomy.
But, get your Sandra and Woo while it is still funny.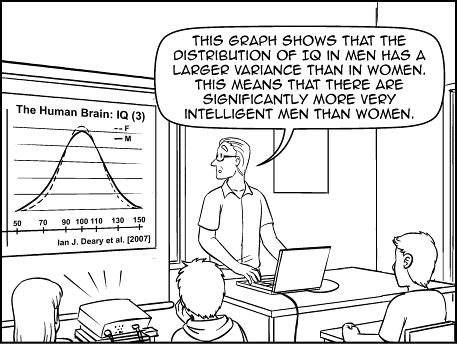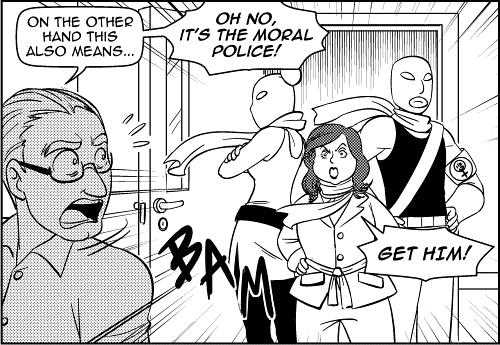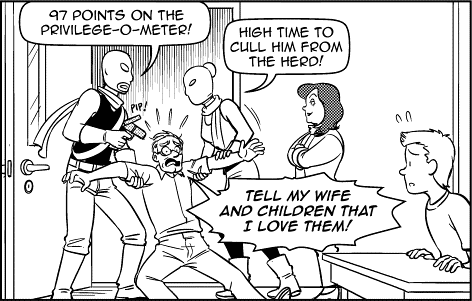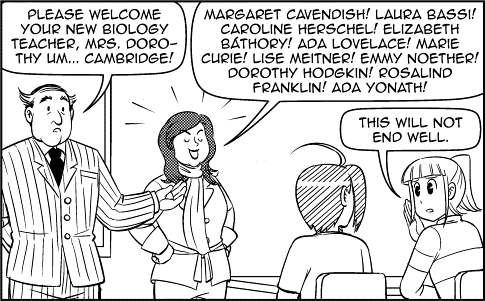 What will happen to Sandra and Woo if little girls remain perfectly uninterested in nookie until they reach the ever increasing legal age?  Pretty much what happened to Sinfest when they could not say the word "slut" any more.
Those poster girls pompously listed by the Commissar are:
Margaret Cavendish: A very ordinary female writer who wrote some rather stupid things on scientific topics.
Laura Bassi: A very ordinary female university science professor, who made absolutely no scientific discoveries – doubtless due to an evil male plot to steal all her research.
Caroline Herschel: She was allowed to assist a great scientist since she was his sister.
Countess Elizabeth Báthory: Believed herself to be a vampire. Tortured hundreds of young girls to death and bathed in their blood in an effort to preserve her beauty. The basis of numerous stories about a hot lesbian aristocratic vampire doing hot kinky nonconsensual sex on hot teenage peasant girls.
I think that the vampire chick is inserted in the list to parody it.
Ada Lovelace: Not the world's first programmer.
Marie Curie: She was allowed to assist a great scientist since she was his wife. Note that Pierre Curie got the radiation burns, not Marie Curie, which suggests that Marie Curie's work largely consisted of washing his bottles. Supposing that she was indeed the one that did the work, the discovery of radium was similar to but considerably less important than the discovery of radon, and no one remembers the man who discovered radon. That we make a big deal out of a woman who allegedly discovered radium, while we don't remember the people who discovered the other hundred elements shows that a woman doing science is like a bear dancing. We pay attention to a dancing bear not because it dances well, but because it dances at all.
Lise Meitner: Supposedly the discoverer of fission – because she corresponded with the man who actually discovered fission, the correspondence consisting of him sending her a letter telling her he had discovered fission, to which she replied such a thing was impossible.  Not even his wife or sister.
Emmy Noether: Emmy Noether is the real thing, a truly great mathematician who will live forever, but that the list is padded with so many fakes tells you that the real thing is in short supply.
Dorothy Hodgkin:  Science bureaucrat.  After other people discovered the method of resolving complex molecular structures by Xray diffraction, she applied this method to one complex molecule after another.  The scientific equivalent of HR.  Boring.
Rosalind Franklin:  Same story as Dorothy Hodgkin.  Even more boring.
Ada Yonath: Same story as Dorothy Hodgkin.  At this point the feminist compiling the list of which this is a parody passed out from boredom.