A great storm first manifest as clouds on the horizon. The Republicans are going to wish they had not won the 2010 November elections.
Supposedly US inflation is near zero, yet food, fuel, and heating oil has risen substantially.
Gonzalo points out
Grains as a class have risen over 33% year-over-year. Refined oil products have risen just shy of 13%, with home heating oil rising 18% year-over-year. In other words: Food, gasoline and heating oil have risen by double digits since 2009. And the 2010-'11 winter in the northern hemisphere is approaching.
Supposedly, food in the supermarket is not rising, or not rising yet, yet bulk prices of the commodities you need to live on have risen by thirty to fifty percent.
If this has not shown up in the supermarkets yet, it is going to show up mighty soon.
The storm, inflation rates that are quite obviously disruptive and unacceptable, will likely be raging vigorously some time in 2012. There may well be continued reluctance to admit what is happening. I will not be much surprised if official statistics and the New York Times announce that everything is coming up roses even in 2012
Officially, all is roses today, yet Case Research reports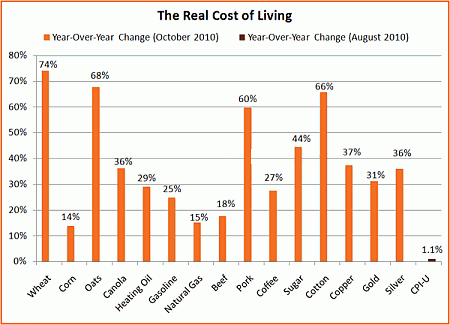 Tags: fiat money, hyperinflation