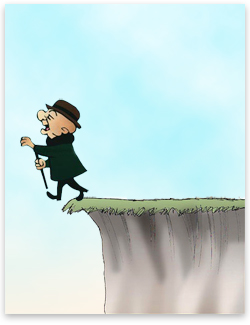 "We may be seeing the beginning of the end of the recession", says Obama
It has become apparent that the way for economists to become important, respected, even get Nobel  prizes, is to tell politicians and bureaucrats what they want to hear, which is usually that there is sound economic reasons to do whatever pleases lobbyists, special interest groups, and strategically important voting blocks.
Here is Bernanke on the housing boom back before it burst – he is telling us that the there is no bubble, that the government inflating prices will not cause crash and recession – were he to tell us something different people might think that the government pressuring banks to throw trillions of dollars in the general direction of people of the politically correct race but economically incorrect credit rating might lead to serious problems.
That does not of course mean the recession is going to get worse.  What it does mean, however, is that all the very clever economic experts around Obama will tell him that things are going to be fine, regardless of whether they are going to be fine or not.
Because some of the people around Obama are crazies, notably his science Czar, craziness automatically becomes mainstream, and the good and the great start figuring out clever rationalizations why those programs are not crazy at all.
Well Obama has stuck his neck out a little, and made his prediction, so it is only fair that I stick my neck out and make my prediction: My prediction is for high unemployment, high inflation, or both, leading to ballot box stuffing and heavy intimidation of white and aged voters in the vicinity of the voting booth in 2010 and 2012