No Limit Nigga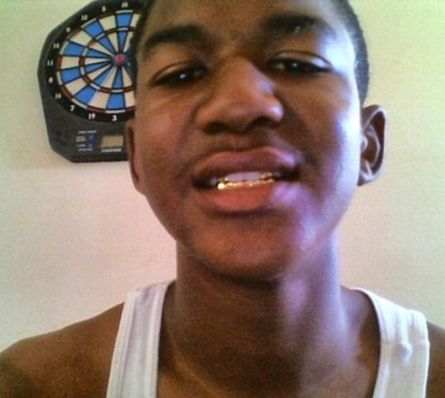 This is a picture of No Limit Nigga.  If he does not much resemble the massively photoshopped image of Martin Trayvon you see everywhere, he nonetheless is a good match to the pre photoshopped image.
The knockout game
You have doubtless heard of the knockout game, where a black suckerpunches some random white in the street.
Is the knockout game happening everywhere all the time and the press and police are politely ignoring it, or is it a very rare occurrence, and evil white racists are making a big deal out of this very rare event?
A congresswomen just got hit, so, if happening to a congresswoman, happening to very large numbers of ordinary people, but only reported when Jews or politicians get attacked.
A girl, Phoebe Connolly, punched in the head, apparently as part of the knockout game, promptly gave a speech piously calling for more generous welfare for the blacks who attacked her.  If some white guy at work sent her flowers, she would have called in HR to have him fired. Girls like attention from high status males, even if it takes the form of a punch in the face, don't like attention from low status males.  Also bears shit in the woods.
No Limit Nigga exercising the rights of blacks over whites:
In October 2012 Martin Trayvon was suspended for writing obscene graffiti on a door at his high school. During a search of his backpack, security officers found 12 pieces of women's jewelry recently stolen from a house near the school and a screwdriver they thought had likely been used as a burglary tool.
Because No Limit Nigga was black, he was let off, and the property was not returned to the rightful owner.  If he had been white, would surely have gone to jail, and the property would have been returned.
Trayvon was enraged to be profiled by George Zimmerman because he felt entitled to rob and beat people up – and the reason he felt entitled, the reason millions of indignant and outraged people feel he was entitled, was because he was entitled to rob and beat people up.
In the arguments that immediately followed the shooting, those supporting No Limit Nigga, and condemning George Zimmerman held that George Zimmerman was white. (He was not.) That he looked white. (He does not look white.  He looks Mestizo) And that he provoked Martin Trayvon.
But that is not an argument that George Zimmerman attacked Martin Trayvon.  It is an argument that Martin Trayvon was entitled to attack George Zimmerman, that he had a right to beat the crap out out George Zimmerman without George Zimmerman defending himself. If they actually believed that George Zimmerman attacked No Limit Nigga, they would not talk about provocation.  And if they believed that No Limit Nigga had no right to beat whites up, they would not talk about whiteness.
They claimed that they believe that Zimmerman attacked No Limit Nigga, but their arguments only make sense as arguments that Zimmerman was uppity, only make sense as arguments that Zimmerman disrespected Trayvon by not letting himself be beat up, only makes sense as an argument that Zimmerman "attacked" by fighting back.
Which is why Phoebe Connolly has the hots for the guys that punched her in the face, while her contempt and derision for the white males around her has left her an aging spinster heading fast towards becoming a cat lady.  It is really our fault, not her fault, it really is the fault of white males.  Of course women are not turned on by men who submit.  They want winners, we are losing.  We should no more complain about that than women should complain that men want women who are young and slim.
In the ancestral environment, the guys who get punched in the face would not be able to provide a safe environment to raise children, and in our modern environment, the guys who get punched in the face also have trouble providing a safe environment in which to raise children.
---
If all men (and women) are created equal, then obviously female underperformance and black underperformance must be because the evil and astonishingly powerful white males are keeping them down.  White Privilege!
Therefore, harsh measures are needed to punish these evil white males, to end White Privilege
Strangely, the harsh measures fail to work.
Obviously therefore, harsher measures are required. Rinse and repeat, without end.
The battle of the sexes is limited by the propensity to fraternize with the enemy, but race war has no limit.
A normal war can be ended by surrender, but a war for social justice can never end short of genocide, because there can never be social justice.
For this process after umpteen repetitions, observe those parts of black Africa where the Tutsi are ruled by their inferiors.  As a result of the UN and international pursuit of equality and social justice, we see arson, mass rape and mass murder, and large numbers of Tutsi women murdered by vaginally impaling them with large objects, while the world piously and virtuously averts its eyes, and cannot bring itself to mention who is doing the impaling, and who is being impaled.  And yet even as the impalings proceed, the Tutsis are still superior.
What must be done?
Impale with bigger objects.  Only thus can the problem of Tutsi privilege be finally and permanently solved so that Black Africans can live together in the wonderful peace and harmony that existed before the evil white colonialists divided them from each other.  Progressives the world over feel a warm glow of virtue, which might be disturbed if the details of what they are doing in the Congo was examined too closely.
Those who create value tend to be wealthy, those who consume value tend to be poor.  If the government aligns itself with the poor against the wealthy, it winds up meddling with private property, and replacing the decision making process of the owners with its own decision process.
The pursuit of social justice on the basis of property rights, social justice for those who do not own property against those who do own property, leads government to massively violate property rights.
This faces government with an impossibly enormous pile of decisions which have to be made by people who can know very little of the matters they capriciously decide.  Bureaucratic chaos ensues as the amount of red tape explodes, as depicted by Hayek and Ayn Rand.  As the government operates without a budget, as it passes legislation thousands of pages long, which legislation is a set of headers for regulations tens of thousands of pages long, which entirely unworkable regulations are ignored by the regime itself and overridden by decrees casually issued in speeches.
This problem, called by economists the problem of socialist calculation, has been much studied by economists.
The equivalent problem, the problem of social justice between races and the sexes has not been similarly studied.
The the pursuit of social justice between ethnic groups leads to ethnic cleansing and pogroms, because no amount of state persecution of the superior group makes the inferior group any the less inferior. We are seeing increasing amounts of UN sponsored mass rape and ethnic cleansing, most recently in the Congo.
As with social justice between economic classes, the state is attempting to do that which cannot be done.  Disaster necessarily ensues. With race the disaster takes the more direct and visible form of outrageous ethnic violence, while with economic classes, it is rather the government strangling itself in red tape and administrative chaos.
---
So, how do we have a society in which this does not happen?
What is the cure?
The problem is that leftism is a slippery slope.  Indeed it is a conspiracy for finding slippery slopes, for each slippery slope creates a bunch of permanent government jobs, wherein political activists make a living solving problems that can never be solved.  The Cathedral is aware of the economic critique of leftist hostility to property rights:  Laws and regulations violating property rights mysteriously fail to achieve their objective, which is deemed reason for more laws and regulations, which also mysteriously fail to achieve their objects, till you get the total bureaucratic self strangulation exemplified by the Soviet Union and portrayed in "Atlas Shrugged".  The Cathedral tries to resist the continual temptation to slide down this slope, not very successfully.
The Cathedral, however, is unaware of the similar slippery slope problem with privilege for inferior groups, and is sliding blindly.
The state provides "equality" for groups that are, on average, not equal.  Problems ensue.  It solves these problems at the expense of the superior group, applying unequal laws that discriminate between the groups, in favor of the inferior and against the superior.  For example it is illegal for a white to insult a black, perfectly legal for a black to insult a white, and this is continually reflected in everyday life.  The law requires everyone to support black and female self esteem, requires everyone to punish and degrade white male self esteem, the latter requirement being highly visible on television.
That white males are legally at the bottom of the totem pole deprives them of structural alpha.  It makes white females less enthusiastic about sex and marriage.
But these laws, rather than remedying the inferiority of the inferior group make its inferiority more obvious, enraging it.  The more the inferior group is privileged, the worse it behaves, the more inferior it is, the more problems ensue, the greater privilege is demanded.
You cannot actually treat unequal groups equally.  For example if we have to restrict young people's drinking, we have to restrict blacks drinking for similar reasons.  In America an eighteen year old is apt to be arrested for carrying a bottle of beer.  Are you more worried by a white eighteen year old with a bottle of beer or a black thirty year old with a bottle of beer?
Fertile age women should not be allowed to drink in mixed company, except under the supervision of father or husband, not because they pose a risk to others, as hard drinking males do, but because they pose a risk to themselves.  And thus we wind up with laws that say that if man and a women get drunk and have sex, and discover in the morning that they do not much like each other, the man is at fault, is in fact a rapist, unreasonably legally privileging women, and outrageously mistreating men.
We cannot restrain ourselves from giving women special protection.  If we are going to protect them from the consequences of their own actions, which inevitably we always do, we cannot give them a free hand to perform those actions.  If women are allowed to cry rape for decisions made while drunk, they should not be allowed to get drunk unsupervised.
To thrive, blacks need simpler, harsher laws, more vigorously enforced, than whites.  The average black cannot handle the freedom that the average white can handle.  He is apt to destroy himself.  Most middle class blacks had fathers who were apt to frequently hit them hard with a fist or stick or a belt, because lesser discipline makes it hard for blacks to grow up middle class.  In the days of Jim Crow, it was a lot easier for blacks to grow up middle class.
Of course a law that treats blacks differently from whites is going to be unjust to some blacks, but a law that treats someone over eighteen differently to someone under eighteen is going to be unjust to some eighteen year olds.
It is not that laws that treat different groups differently are more efficient.  We do not care about efficiency that much.  The problem is that if we refuse to treat different groups differently, we wind up solving the resulting problems by legally privileging inferior groups over superior groups, treating the superior group unequally before the law, and considerably worse.  Such privilege tends to escalate without limit.  Privileging inferior groups creates problems that result in escalating privilege.  Priviliging superior groups is self limiting.  Naturally the superior group is only privileged to the extent that it is superior.  The inferior group, however, is privileged to make it equal, but its privileges do not make it equal but instead make its inferiority more painfully apparent.
The cure is that our laws and the enforcement of the laws have to reflect race and sex realism.  Which will require a general purge of academia and government employees (especially the judiciary) of those who deny race and sex realism.  We have to reject the proposition that all men were created equal and endowed with certain inalienable rights, and get rid of the entire apparatus for making this unreality real, this impossibility possible.
If we do not apply this cure, you are going to find it harder and harder to marry, harder and harder to buy a house where you can raise children, harder and harder to avoid being ethnically cleansed after the fashion of Detroit, harder and harder to have what was once regarded as a normal life.  South Africa foretells a majority minority future.
Tags: Black privilege