In 1985, when cutting first appeared, girls cutting themselves was something astonishing, something no one had heard of, that psychiatric interns had never heard of.
Now a significant minority of women cut themselves.  Hard to say how many, but probably a few percent. Not a substantial minority, but not a tiny minority either. Hot fertile age women.  Women with strong sexual needs and completely screwed up sex lives, usually sex lives screwed up by their own self destructive bad choices.  "Strong independent women" who are not in the least strong, and greatly fear independence. White women. Women totally raised in feminism.
As the epidemic grows, only now is the psychiatric industry coming up with a diagnostic category "Non suicidal self harm"  We did not have a word for cutting until recently, and psychiatrists are only now coming up with a word for it, and not a very apt word yet, for the category self harm is deliberately over inclusive, in order to avoid being exclusively female, including a great deal of what would be more aptly called "stupidity", so that some males can be put in the same category. (The obvious difference being that after doing something very stupid once or twice, males usually stop doing that particular stupid thing.) It is politically disturbing to have a psychiatric category that is near one hundred percent female, so calling it what everyone calls it, "cutting", is politically incorrect. Yes. Males sometimes, rarely, cut themselves. Discover it hurts like the blazes, then do not do it again.
If you google for "self harm", the PC term, you don't get information on cutting, but deceptive and malicious misinformation on cutting, misinformation intended to cause harm and suffering, and if you google "cutting" any page that comes up with words "self harm" in it is overwhelmingly likely to be malicious misinformation.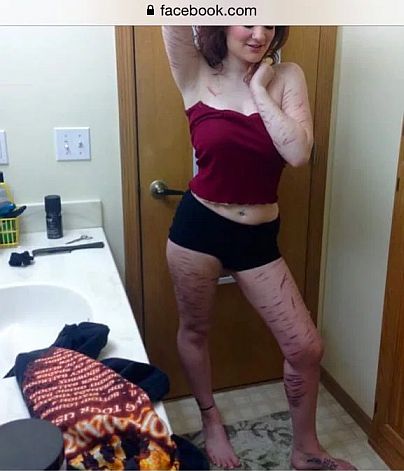 As it says in the Book of Genesis, women are psychologically maladapted to equality.
Think how much more comfortable she would be, how much more at peace she would be, how much saner she would be, how much happier she would be, if those were her owner's whip marks.
Reading between the lines of girls making videos and posts about cutting themselves, they are saying to the numerous boys that pumped them and dumped them "Punish me, don't ignore me."