Stolen from the comment section of Steve Sailer's excellent blog.
Someone who wishes to remain anonymous has assembled data showing that American whites murder at about the same rate as whites in countries with strict gun control, American "Hispanics" murder at about the same rate as they do in their native countries, which generally have strict gun control, and that American blacks murder at about the same rate as blacks do world wide, mostly in countries with strict gun control.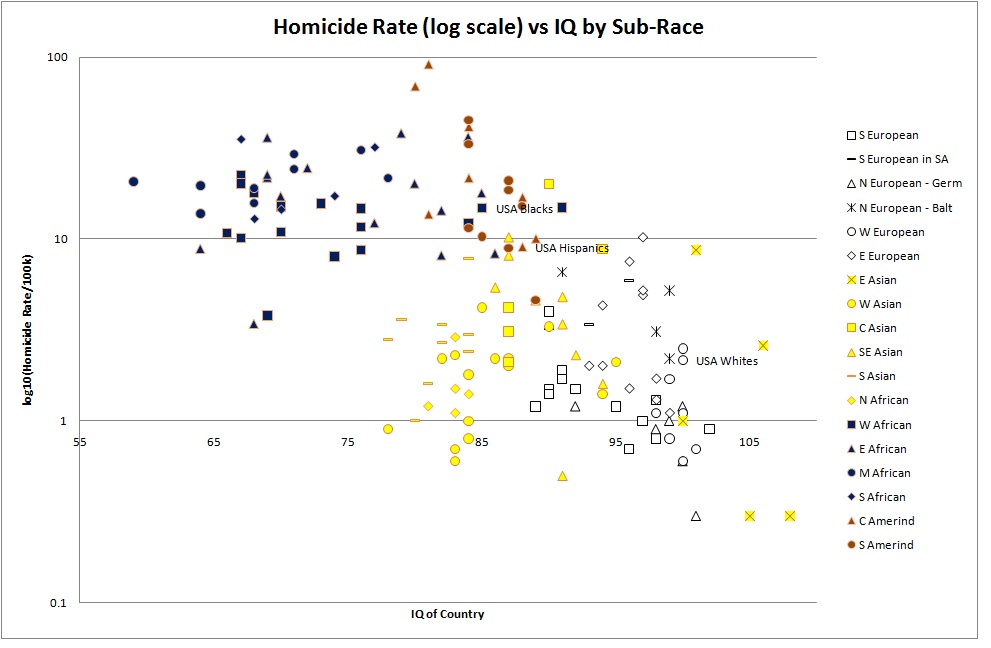 The main factor by far in homicide rates is race.
Another significant factor is national IQ.   East Asians in high IQ countries have markedly lower murder rates than East Asians in low IQ countries.  Similarly, Central Americans.  Possibly high IQ nations carry out policies discouraging murder more effectively than low IQ nations, and members of high IQ races are more easily influenced by such pressures.  Blacks, however, seem unaffected by the national IQ.
Anonymous explains how he constructed the graph:
I took the step of plotting homicide rate vs IQ of country. There is a very definite link between IQ and homicide rate, and it seems mainly to function as an upper bound. That is, the higher the IQ of the country, the lower the possible homicide rate. Higher IQ seems to be a civilizing factor. But within the greater homicide rates seemingly afforded by lower IQ, there is a great deal of variance. There are some relatively non-homicidal, low IQ populations. So there is more at work here than IQ.

…

http://en.wikipedia.org/wiki/List_of_countries_by_intentional_homicide_rate#By_subregion

Looking at the country table and clicking to sort by sub-region, the exceptions stuck out.

http://en.wikipedia.org/wiki/List_of_countries_by_intentional_homicide_rate#By_country

It seemed evident to me that the exceptions were probably of an racial/ethnic nature. …

The geographically logical groupings that wikipedia uses are roughly similar to racial groupings.
The genetic maps of the world made by Cavalli Sforza shows racial clines that more closely matches the variation seen in the homicide rates, and would explain the exceptions (note that this map does not include modern settlement).
http://en.wikipedia.org/wiki/File:The_history_and_geography_of_human_genes_Luigi_Luca_Cavalli-Sforza_map_genetic.png
The big sub-region exception in North Africa vs Sub-Saharan Africa is well explained genetically, being more Arab than African.
Colonies consisting primarily of founding country ethnic stock (e.g. Southern Europe -> Argentina, Chile, Uruguay, Western/Northern Europe -> USA, Australia, Canada) have homicide rates very similar to the founding countries.

So I separated homicide rate vs. country IQ by racial grouping, to make this relation clearer. (I cribbed this idea from La Griffe Du Lion) I used marker color to divide the broad racial categories – Europeans, Asians/North Africans, Amerinds, and Africans. Within those I selected regions, especially when I knew that there was relatedness, I grouped close ethnicities together as best I could.

Because of the topical nature of USA homicide rates, I also broke out the largest racial groupings within the USA – whites, blacks and Hispanics (mostly Amerind). Once broken out like that, it is evident that within that country, the homicide rates appear to be largely of a racial origin. The USA's white homicide rate of around ~2/100k fits perfectly within the European range, including the areas from which most of its white people are drawn (Western, Northern-Germanic, Southern Europe). The USA's black homicide rate is very similar to that of the West/Central African areas from which the slaves were taken (e.g. Benin, Ghana, Guinea, Nigeria, Senegal and Cote I'voire, Siera Leone, Angola etc.). The Hispanic homicide rate appears to be very similar to that of Mexico, where most of the Hispanic population comes from. I used the FBI stats to tease this information out.

Because the data suits a log scale better, I graphed it that way here:

… race/ethnicity is a very good predictor of homicide rate. It is very hard to make an honest case that gun ownership is much of a factor at all in causing homicides. The evidence suggests that people(s) kill people, not guns. In heavily armed Switzerland, white USA, Serbia etc., the homicide rate is low. In mostly disarmed Netherlands, Poland and Italy, the homicide rate is also low. The common factor here is the European background.

In sub-Saharan African areas with more guns (Equatorial Guinea, Angola), homicide rates are high. In sub-Saharan African areas that have very few guns (Ghana, Ethiopia, Eritrea, in fact most of sub-Saharan Africa) homicide rates are also high. The common factor here is the sub-Saharan racial background.
Anonymous suggests that instead of gun control, we apply ….
That black homicide rates seem to be insensitive to national IQ is consistent with the eighteenth century belief that to maintain acceptable behavior among a black population requires forms of coercion more extreme and direct than are required for other races.