Trump made three big promises. To bring the jobs back, to build the wall, and to drain the swamp.
Bringing the jobs back was effective almost immediately. He reversed a bunch of Obama presidential orders that had shutdown coal fields, oil wells, and pipelines, or prevented new ones from opening, and they immediately opened and started hiring at the stroke of his pen. Overnight, or rather over three months, America ceased to be a major energy importer and became a major energy exporter. It was a radical and abrupt turnaround. Bringing back the factories took a little longer than reopening the mines, because they can move a factory to China, but they cannot move a mine to China, but the factories have come back and are continuing to return. Instead of the great centralization, we now have the great decentralization, with white males moving back into flyover country.
Building the wall took longer, but now its going up, and a mighty impressive wall it is.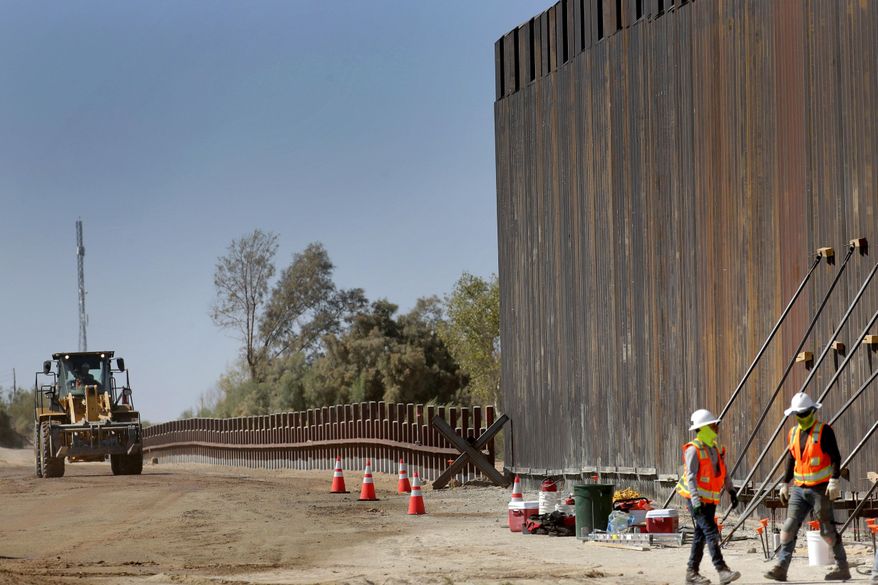 It is depressingly late, and a good deal later than I expected and predicted, but it is very much the wall he promised at election rallies.
Very shortly after Trump was elected, he took action against legal immigration by a multitude of presidential orders. I heard great screams of pain from employers importing H1Bs, and much whining from dot Indian chicks that I talked to the airport. Lately the Dems have acknowledged what is happening and joined in the whining, though it goes against their narrative "weak, weak, weak, weaker, weaker, weaker".
And now, finally, draining the swamp:
The biggest and most important swamp draining operation was not investigating Democratic Party corruption, but rescuing warriors under attack by the most holy priesthood of Obama appointees in the military, who were seeking to break up the bands of brothers that so frightened them. The cucks in top military brass were and are after Eddie Gallagher because he was a right wing Christian. The prosecution kept changing its mind about what war crimes he had committed. When one war crime did not work, they would come up with another. When war crimes did not work, their reaction was the same as when Mueller found that the Russians were probably the only foreign power that did not interfere in the 2016 US election. They wanted to get him on something, anything, everything. The pursuit of Gallagher was priests getting antsi because they smelled a warrior priest, a paladin, of an enemy religion. If one thing did not work, they would try another thing. I don't care whether Gallagher was guilty of war crimes, and as the case dragged on, it became increasingly obvious that the prosecution cared even less than I do.
Trump cannot drain the Democratic party swamp unless he has a military that will back him against a color revolution. The Democrats are planning to react to arrest of Democrats with the arrest of Republicans. In the Eric Ciaramella testimony, the Democrats were feeling out how much backing they have in the Department of Defense for color revolution, and the answer was, quite a lot. Impeachment can only work if they first arrest the president, his family, assorted members of his administration, and then threaten to arrest, or actually arrest, enough Republicans in the Senate – color revolution. The soldiers will only obey orders to enforce the constitution against color revolution if they think Trump has their back, and is able to have their back.
But now, finally, at long last, at long long last, the much promised, much delayed, swamp draining operation against the Democrats:
WASHINGTON, DC 20510
November 15, 2019

The Honorable Ken A. Blanco
Director
Financial Crimes Enforcement Network
Department of Treasury
Dear Director Blanco:

The Senate Finance Committee and Homeland Security and Govemmental Affairs Committee are conducting an investigation into potentially improper actions by the Obama administration with respect to Burisma Holdings (Btuisma) and Ukraine. As discussed in our November 6, 2019, letter to the State Department, while then-Vice President Biden was in office, his son, Hunter, worked for Burisma and "would be paid as much as $50,000 per month." At the time, Burisma and its owner were under investigation by Ukraine and U.K. authorities. According to a report, in 2016, then-Vice President Biden threatened to withhold aid to Ukraine unless the Ukrainian prosecutor that was investigating Burisma was fired, which he eventually was. In addition, Burisma's consulting firm, Blue Star Strategies, used Hunter Biden's board membership to gain access to Obama administration officials at the State Department and potentially influence matters before government of?cials on behalf of Burisma. The Committees have jurisdiction over the taxpayer-funded operations of the State Department and the Financial Crimes Enforcement Network (FinCEN).

To assist the Committees in the examination of these matters, we are requesting a copy of all Suspicious Activity Reports (SARs) and related documents that have been filed regarding the following individuals or entities:
. Hunter Biden;
. Devon Archer;
. Christopher Heinz;
. Karen Tramontano;
. Sally Painter;
. Burisma Holdings;
. Rosemont Seneca Partners;
. Rosemont Seneca Bohai LLC;
. Rosemont Capital;
. Bohai Harvest RST; and
. Blue Star Strategies.

…

Please provide these documents no later than December 5, 2019. Thank you for your prompt attention.

Sincerely,

Charles E. Grassley
Chairman Committee on Finance

Ron Johnson
Chairman Committee on Homeland Security and Governmental Affairs.
In two weeks, Horowitz releases the report on illegal spying on the Trump campaign.
OK, swamp not being drained yet. And the barbed wire entanglements along the border in the 2018 election were not a wall either. But they were an indication of the will and capability to build a wall. Firing the Secretary of the Navy was an indication of the will and capability to resist color revolution, and ordering production of documents is a indication of intent to do something with those documents.