Trump's 2017 order on Muslim immigration is not very different from Obama's 2011 order.  But what makes it different, the reason liberals weep tears of outrage, is that during his election campaign Trump committed Lèse-majesté, blasphemy, against Muslims.
Now suppose a bunch of sluts and whores go into a Cathedral and perform obscene acts on the altar disrupting the service, and get away with it, then that lowers the status of Christians, and raises the status of sluts and whores.
Thus, when Russian cops jailed Pussy Riot for trespassing in a cathedral and committing obscene acts, the progs were outraged, because sluts and whores are high status, while Christians are low status, and obviously high status people should be able to give low status people a hard time, and low status people should just suck it up.   High status chickens peck low status chickens, and low status chickens do not peck back, they peck lower status chickens. High status chickens go where they please, and lower status chickens get out of the way.
If Putin does not let sluts and whores give Christians a hard time, he implies that sluts and whores are lower status than Christians, which of course causes progs apoplectic rage, because it casts doubt on the status of progs.  Until Trump was elected, looked very much as if progs were going to defend their status with nuclear weapons.
If Muslims are allowed to go where they please and give ordinary white people, aka racists, a hard time, that implies that Muslims are higher status.  Which implies that progs are even higher status.  If they are not allowed, that implies that progs are not higher status.
You will notice that Trump is creating safe zones in the Middle East for Muslim refugees.  Which is arguably a lot better for Muslim refugees than coming to an alien country where they cannot get wives or jobs.  The problem for progs is that not just that they want Muslims to go where they please, they want them to go where they please and give ordinary whites (racists) a hard time.  They are not worried about the welfare of Muslims refugees, but their status.  Safe zones, instead of US migration, undermines Muslim status relative to white Americans. It denies Muslims the opportunity to prove that working class white people in flyover country are low status contemptible hateful people who do not matter.
Hence the seemingly peculiar proposition that Trump is being racist.  Islam is not a race.  Banning Muslims is like banning communists. There are Muslims of all races and communists of all races. Trump is not banning Hindus. There are plenty of Muslims in Russia with better claims to Aryan ancestry than any Southern white gentleman, and there are plenty of Muslims in the countries on Trump's ban list that are as white as any American – for example Assad's wife, Asma al-Assad.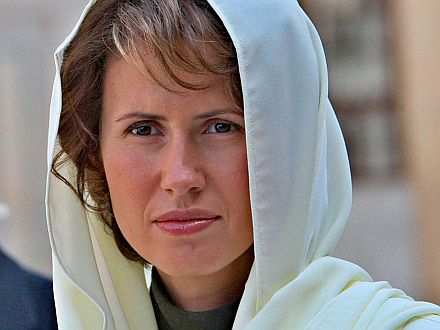 Trump's ban is racist because it raises the status of white Americans, not because it lowers the status of Muslims. It is racist not because it lowers the status of nonwhites, but because it raises the status of people that progs hate and wish to destroy. Same as Putin's police arresting Pussy Riot for vandalizing a Cathedral.
That Alawites tend to marginally whiter than some other Syrians is of course a major part of the reason why the State Department wants them genocided, but there is a very large minority of Syrians of all religions as white as Asma al-Assad. Asma was a Sunni, and Sunnis are a major part of the refugees from Syria. The ban is not racist because it lowers the status of Muslims, it is racist because it raises the status of American whites, particularly those American whites in marginal electorates in flyover country who have had large numbers of Muslims refugees dumped on them and are now suffering inner city levels of murder and Rotherham levels of rape, due partly to the fact that Muslims tend to rape infidels, indeed arguably this is a religious duty, and partly due to the fact that the refugees are generally single military age men who do not speak English. Of course they are going to rape, even if it was not their religious duty.
Progs are apoplectic with rage because the Muslim ban raises the status of the sort of people in flyover country who voted for Trump, and thus lowers the status of progs. People in flyover country are low status, so should get pecked, and Muslim refugees are dumped upon them to do the pecking. Trump grants the people in flyover country high status. Trump is acting like a King, the fount of all honors mortal and divine, hence the prog cry "Not our president". They reject his status, and his power to grant status, because they see he is disinclined to grant them the status they deem appropriate.

You will notice that progs are almost as much outraged by Trump's safe zones as by his ban on Muslim immigration, for the one takes away their power to rub their enemies faces in the dirt almost as much as the other.
Tags: Pussy Riot