For the last eighteen years there has been little or no global warming.
Major warmists have been steadfastly denying the undeniable.  Then a paper appeared, signed by most of the big names in Anthropogenic Global Warming Alarmism, acknowledging "The Big Hiatus"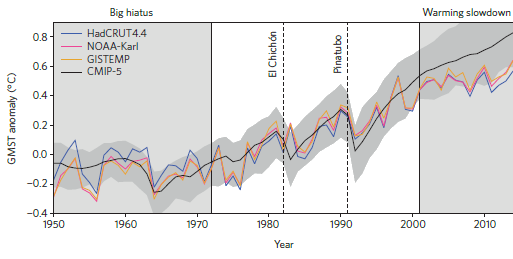 The black line is what the the warmists predicted, the grey area was their error bars.
The colored lines are what has been observed.
The graph is divided into several sections. The hiatus/pause/slowdown is what has been observed since the accuracy of our tools for measuring climate change were improved.
This capitulation is largely due to the work of Climate Audit.
Climate models retrodicted the past with near perfect accuracy, despite the fact that our ability to measure or estimate past global climate was nowhere near that accurate. Conspicuously failed to predict future climate change.
I repeat my prediction of future climates: In times to come the climate will for long periods be substantially warmer than it is now. It will also for long periods be substantially cooler than it is now. There is now far more ice around Antarctica than was historically normal, and Antarctica has been abnormally frozen up for the past thirty years or so. In the past from time to time the North Pole has melted in summer. In the past the Northwest passage sometimes opened in summer and sometimes did not, and in the future the Northwest passage will sometimes open in summer and sometimes will not. In the future the North Pole will sometimes melt during summer, sometimes for several summers in a row, but mostly it will stay solidly frozen. Polar bears will get by either way. Having survived the North Pole melting in the past, they will survive the North Pole melting in the future.