Not all houses in Ferguson have dropped to a small fraction of 2014 prices, some substantial areas are holding value, but houses in large parts of the Ferguson zip code have dropped far far below the cost of building, or even maintaining, the house. If the ad says "located close to shopping", it usually means that whites have been forced to abandon their homes to blacks by black violence.   The shopping areas are still partly ruins, often with rubble that no one has yet bothered to clean up.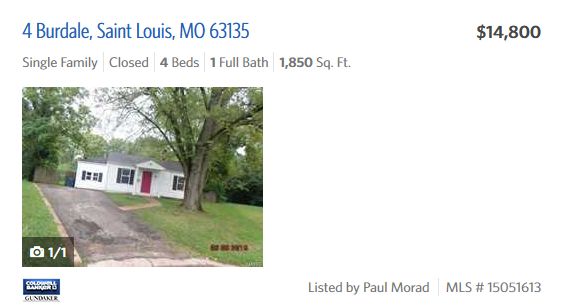 These houses are generally listed as sold in foreclosure, suggesting that the occupants simply fled, abandoning their house to the bank.
Whites build houses for black people to live in. When the neighborhood is utterly destroyed, blacks move on to another white neighborhood.  Hence the abandoned ruins of Detroit, as blacks flee the ruins of Detroit, to ruin more recently built homes.
That is how the inner city became black.  And now, the process that made the inner city, where the wealthy used to live, a terrifying jungle stalked by upright walking plains apes, is being repeated on those suburbs targeted by the HUD and the department of justice.
This predation by blacks on whites is a major part of what makes housing and family formation unaffordable to whites – the high, and ever rising, cost of buying a house in a neighborhood which is unlikely to be taken away from you.
Everywhere, blacks live in the ruins of homes built by whites that whites were forced to abandon, often, as in the inner city, quite wealthy whites.  For white people to afford housing, we simply have to restore segregation, apartheid, and slavery.  Even if this is unfair to some individual high performing blacks, what is happening with housing is immensely more unfair.  Collective racial violence by blacks as a race against whites as a race gets blacks free stuff from whites, and this absolutely has to stop. If you don't like my program for stopping it, what is your program?