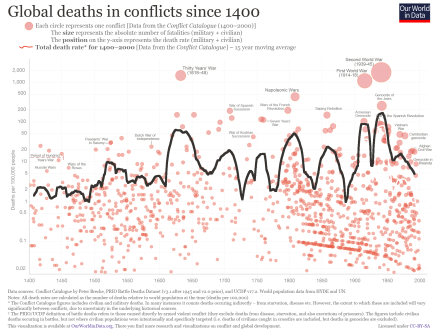 That is deaths as a proportion of population on a logarithmic scale, so the upward trend in the graph represents a doubling in the proportion of people killed in war.
The next big war is due round about now.
Right now we are heading into civil war. War is easy, peace is hard, in the sense that falling off a cliff is easy, climbing a cliff is hard. Unless you make an effort to listen to the other guy and walk in his shoes, you are going to fall into war, and while it takes two to make peace, only takes one to make war.
They will not hear us, therefore sooner or later, probably sooner, will start killing us and each other. Probably mostly each other.
I am seeing no end of people on Twitter and Facebook calling for white genocide and the destruction of all productive activity and technology, and receiving social approval and state backing for so doing. To the best of my recollection, whenever calls for genocide and indiscriminate destruction have met social and state backing, actual genocide and indiscriminate destruction followed not very long after.
The most peaceful and humane era was about 1750 to 1911. Since then, war, mass murder, crime, violence, and slavery have generally been escalating, most notably in the colossal mass murders of communism(not shown in the graph above). Support for socialism is rising rapidly, and everyone who supports socialism, supports slavery, torture, and mass murder. Recollect that every tenured academic everywhere in the entire US Hegemony supported the Khmer Rouge until Christmas 1978 (at least in the sense of remaining piously silent) while his institution supported the Khmer Rouge even though the crimes of the Khmer Rouge were widely reported in 1975. Every socialist throughout history has, when socialism started racking up huge body counts, continued to support that socialist state until it collapsed of its own evil and self inflicted ruin.
Trouble is that crimestop renders them oblivious to hideous crimes, as in Haiti, Syria, Libya, and the Congo.
Notice how easily overseas color revolutions have turned into terror, mass murder, and attempted genocide, without affecting their sense that they are holier than God, and their confident belief that the benighted will shortly see the light and start pelting them with flowers.
Notice how raising the self esteem of Hutus by lying to them about history (We Waz Kangs) swiftly and easily turned into lowering the self esteem of Tutsis by vaginally impaling Tutsi women with objects larger than themselves, without affecting the enormously inflated self esteem of progressives in the slightest.
We are seeing attempted color revolution in the USA, and we have recently seen overseas color revolution turn genocidal without anyone except deplorables noticing.
I am seeing crazy lunatic leftists who are totally fine with communism and mass extermination of deplorables getting into trouble for insufficient leftism. If Trump is removed from power without being replaced by his son, they are going to die. The left is going to murder Scott Alexander before they come looking for me.
They are unlikely to start listening until holy war has burned itself out, and holy war is apt to be conducted by killing everyone, starting with the women and children, and destroying everything. For us to survive, we will have to kill them, destroy their stuff, and enslave their women.
Chances are that initially many of us will be massacred, and the rest will become refugees, and then, if things go well, we invade when they start fighting each other or the massacre of women and children and the destruction of capital depletes their resources, as the Tutsi refugees invaded their homeland when Hutu energies were absorbed by destroying capital and murdering women and children. Or we might get Chinese assistance to invade, as a relatively sane Khmer Rouge faction received Vietnamese assistance.
The holy, expecting the Eschaton, are apt to destroy the resources and capabilities that they need to wage war, as the Khmer Rouge did. Their indiscriminate self destruction may well work in our favor. Recall the Zealots of Jerusalem destroying their food supplies while under Roman siege, and recall the Romans of the last days of the Roman Empire murdering the wives and children of their foreign mercenaries. The guys on twitter calling for white genocide will set fire to their own cities, cut down their own power lines, and rip up their own water and sewage lines, as the Palestinians of Gaza destroyed the capital that the Jews of Gaza left behind, and that Jewish philanthropists had paid large amounts of money to transfer to the Palestinians in good order and condition, as the blacks of Detroit continued to destroy Detroit after expelling the white people that had built Detroit and given the black people of Detroit good jobs at good wages.
We may well find ourselves rebuilding and restoring order in a howling wilderness. In a long war, they will destroy the resources they need to fight a long war, and we will inherent the howling wilderness. A short war, however, will be funded by smash and grab, which is apt to favor those most willing to smash stuff and to massacre the weak, the vulnerable, and the innocent. In a short war, their superior holiness will work in their favor in that they will be more willing to massacre women and children. In a long war, the fact that understanding economics and logistics is crimethink will work in our favor.
Reaction looks to the past to restore old social technologies that have been lost, and avoid repeating past errors.
Notable among those past errors was the murder of a hundred million or so by socialists, socialism, and leftists, which outcome now threatens us once again. The cure for that error is the corporate capitalism of Charles the Second.
Another error was the thirty years war. The cure for that error is national churches and the peace of Westphalia. As with Orthodox Christianity, the Church should be both national and supranational, with neither characteristic obliterating the other. America's current wars are, like the troubles leading to the thirty years war, universalist wars fought to impose America's state religion of progressivism and the holy priesthood of Harvard on the world. The reason the Afghan war goes on forever is that it is not fought to prevent Al Quaeda from re-emerging, but to teach Afghan schoolgirls to put a condom on a banana. Holy wars are always costly, hence we need to restore the peace of Westphalia. Holy war with China looms. If we are going to impose a government on Afghanistan, it needs to be an Islamic monarchy, that is not going to allow Al Quaeda, but is not going to teach schoolgirls to put a condom on a banana either. If we impose a government on Afghanistan, our model should be one of emirates, not Harvard. Our relations with Russia and China need to be governed by the Peace of Westphalia.
The internal democides of twentieth century socialism threaten us once again, and the external holy wars of the seventeenth century threaten us once again. Internal civil war looms, and external holy war looms.
Science is dying, replaced by the demon haunted dark of peer review. Corporate capitalism is dying. Technology is stagnating.
We intend to restore what gave us science, technology, corporate capitalism, and empire, so that mankind can rule the stars under the star empire.
The Restoration of Charles the Second gave us empire, corporate capitalism, industrialization, technology, and science, which is what we intend to restore. Corporate capitalism is one of the things that we intend to restore, under a divine right monarchy resembling that of Charles the Second.
We are never ruled by capitalists. The capitalist class is no more capable of ruling than the proletariat is capable of ruling. We are always ruled by warriors or priests. Right now we are ruled by priests, and when priests rule, they are apt to succumb to holiness spirals.
Capitalism dates back at to least our earliest written records, to at least the early iron age, and probably all the way back to the neolithic Y chromosome bottleneck. Moses was consciously restoring the real or legendary social order of the Patriarch Israel against the decadent socialist social order of the late Bronze age, and the social order of the Patriarch Israel was a survival from the Y Chromosome bottleneck.
Our restoration, if all goes smoothly, will resemble that imposed by Charles the Second. If things go badly, will necessarily resemble that imposed by Moses. A restoration resembling that of Charles the Second will be one that avoids socialism and holy nuclear war with China. A restoration resembling that of Moses will be one that follows the democides of socialism and holy nuclear war with China.
If all goes well, the Holy American Empire and the Chinese Hegemony will both race to the stars, each seeking to grab as much of the universe as possible before the other does. Worst case, and the chance of the worst case is not insignificant, the entire white race gets murdered.
If all men are created equal, then it logically follows that the underperformance of official victim groups is caused by heterosexual white males. Since no amount of reparations seems able to remedy this underperformance, it obviously follows that killing all white male heterosexuals, then all whites, all males, and all heterosexuals, is going to to fix the problem and bring about utopia, and anyone who opposes utopia is an evil white supremacist, and therefore killing him is totally justified, indeed a heroic act of superior virtue.