Women cannot do men's jobs, and the pretense that they can and are is doing immense damage to men's work and the creation of value by men.
Women in men's positions subtract value. Women in powerful male positions subtract enormous amounts of value. Men at work get paid for creating value, and are forced to pay women for destroying the value that men create.
The reason for female under representation among top engineers, scientists, etc, is that women are slightly less competent on average and have a narrower distribution.
The reason for female under representation among CEOs is moral and emotional, unrelated to competence. Women are very competent managers. A woman has always managed my affairs, and generally done so very well, but women are uncomfortable running things without a strong alpha male supervising them and approving their work from time to time. If they don't get the supervision that they emotionally need from someone masculine, patriarchal, and sexy, they start acting maliciously, and self destructively, running the operation off the road and into the ground in a subconscious effort to force an alpha male to appear and give them a well deserved beating. The problem is that if she does not get the supervision that she emotionally needs, she will maliciously run the operation into the ground, like a wife married to a beta male husband whom she despises, destroying the family assets and the lives of their children.
Happens every single time, as near to every single time as makes no difference, no matter how smart and competent and hard working they are. Exceptions are so rare as to be nonexistent for all practical purposes.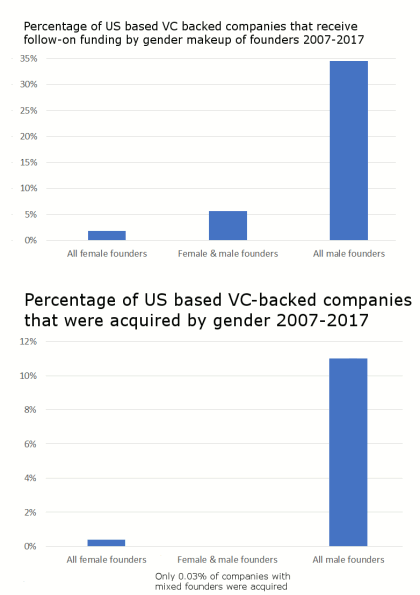 I would explain the fact that a company with a female founder was one eighth as likely to get follow on funding by the fact that absolutely none of them should have received funding, and the only reason that any of them got any follow on funding was that the venture capitalists wanted to deny that anything was wrong. The official and enforced explanation is that it is proof of irrational hatred and misogyny by venture capitalists. And if you doubt this, you obviously must hate women.
So, to decide between these two explanations, let us look at company acquisitions. When venture capitalists fund a company, they intend it that if it succeeds it will be acquired by a big company. If a company is not acquired, the venture capitalists have pissed away their money. Most times they lose, sometimes they win big.
So, that eleven percent of companies with all male founders were acquired represents the venture capitalists winning one time in nine.
With all female founders, they won one time in two hundred and seventy. With all female founders they had only one thirtieth the chance as with all male founders.
One might suppose that this indicates that women are one thirtieth as likely to be able to operate a company as a man, but obviously this conclusion is absurd. The companies must have been acquired for political brownie points, not because they were being operated successfully. It is as plain as the nose on your face that women are absolutely disastrous when given this kind of authority, but official sources will deny what is spitting in their faces and kicking them in the balls, so how do we check this? Are they insane, or am I insane?
Answer: Look at companies with both male and female founders. If the reason is misogyny, then the female founder will have no effect, because the purchasers will assume she is only there for decoration and to warm the bed of the real founders.
So, if misogyny, companies with mixed founders should be purchased at roughly the same rate as companies with all male founders.
If the problem is that women are just naturally incompetent as CEOs, then companies with mixed founders should be purchased at a somewhat lower rate, as the male founders carry the female founders on their backs while the purported female founders paint their nails, powder their faces, and discuss their most recent booty call from Jeremy Meeks.
If, however, the problem is that women in power just invariably and uniformly act like feral animals, as if they had been raised by apes in the jungle, then zero companies with mixed founders will be purchased. If the problem is that the female founders need to be placed in cages and put on leashes, but the male founders are not allowed to do so, then zero companies with mixed founders will be purchased. If the problem is that these days women are no longer subject to the restraints of civilization, then zero companies with mixed founders will be purchased.
Well, guess what.
---
If a woman has a strong husband who is himself wealthy and powerful, and she washes his dishes and sorts his socks, then she can be a good CEO. Today, however, husbands are generally weak, and therefore competent female CEOs correspondingly rare.
Females can no more do large group socialization than they can chop wood with an axe, or clear a path through the jungle with a machete. Females in or near positions of power have a disastrous effect on the social cohesion of the group to which they belong, on the propensity of group members to cooperate with each other, on the asabiyyah of the group, on the group's capability to pursue goals in common.
It is a standard psychiatric finding that women are supposedly more agreeable than men, and in very important ways they are.
If tell a woman I have mislaid my keys, she will find them. In this sense women really are more agreeable than men.
If I tell a woman to get me coffee, she will get me coffee. In this sense women really are more agreeable than men.
If I slap a woman on the backside, she will yelp and jump, but then smile and laugh. In this sense women really are more agreeable than men.
But who is it that interrupts the boss?
It is always a woman. Yes, she interrupts in a supposedly friendly, supportive, and agreeable manner, but interrupting is in reality unfriendly, undermines him, and is in fact disagreeable.
Women are catty. Two women are friends, three women are a contest to see which two will become friends. Women are disruptive. They never stop shit testing their bosses. If a woman interrupts her boss, talks over her boss, even though her interruption is supposedly friendly, supportive, and all that, as it always supposedly is, she is disrupting and damaging the organization.
Women take advantage of and abuse restrictions on physical violence, and other rules commanding prosocial behavior, which abuse undermines prosocial behavior and impairs large group cooperation between males. Women are bad for and disruptive of any large group that attempts to cooperate to get something done. They undermine asabiyya, throwing sand in the wheels just for the hell of it. They are always throwing down shit tests to find which male is alpha enough to subdue their bad behavior, always disrupting, always looking for a well deserved spanking.
The psychiatric category of "agreeableness" is cooked to support the doctrine that women are wonderful. It conflates going along with bad behavior, with going along with good behavior. It declares resisting bad behavior to be disagreeable, while ruthlessly and cynically imposing on good behavior is supposedly not disagreeable.
Yes, women really are wonderful in their proper sphere. In power, they are only tolerable to the extent that strong males keep them in line.
A more accurate analysis of female behavior is that females are bad at, and bad for, large group social dynamics. Female or substantially female businesses fail, often fail very badly. Women are better at one on one dynamics than men – all women, all the time. Worse at large group dynamics than men. All women, all the time. All women are like that.
It is obvious to me that women are having a devastating effect on male efforts to create wealth, and I have long been puzzled at other people's inability to see what is not merely right in front of their faces, but repeatedly spitting in their face and then slapping them.
A business appoints a female boss because progress. She acts in an angry hostile manner, infuriating customers and vital employees, disruptively knocking the business off track instead of keeping it on track, as if the business was a beta husband, and she wanted a divorce with the house, the children, and alimony. Business goes down the tubes. No one notices. Supposedly the business ran into mysterious head winds that have absolutely no connection to the new boss whatsoever.
When males aggress, they get in each other's faces, they shout, there is always a hint of the possibility it might turn physical, a suggestion of physical menace. Women aggress and disrupt in a more passive manner, and these days we are not allowed to react to female aggression by shouting at them and getting in their faces, by menacing them. It used to be, within living memory, within my memory, that female misbehavior was met with a male response that hinted at the possibility that she might get spanked, put in a metaphorical cage, or put in metaphorical or literal irons, just as an aggressively misbehaving male got then and gets today a response that hints at the possibility of a punch in the face or imprisonment. Women today therefore routinely aggress and disrupt in a manner I find shocking, crazy, disgraceful, bizarre, and extreme, and do so with shocking and disgraceful impunity, as if within my lifetime women came to be possessed by demons, and everyone is walking around like zombies pretending to not notice. Recall in the infamous interview, Jordan Peterson looks away from Kathy before calling out her bad behavior, because if he looked her in the face while calling out her bad behavior it would have been socially unacceptable, because women are supposedly wonderful.
A male quarrels with a male. They get in each other's faces, you feel that violence might happen, or at least one of them will call security and have the other shown the door. They have the body language of two male goats about to butt heads over possession of a female goat.
A female quarrels with a male. She interrupts him and talks over him in a supposedly friendly and supportive way "So what you are really saying is …"
A male who intends to aggress against another male who is ignoring him intrudes into the other male's space and just plain gets close enough that the male he is aggressing against has to drop what he is doing and pay attention. Again we see the body language of two male goats about to butt heads over a female goat.
A female who intends to aggress against a male who is ignoring her also intrudes, but not so close, and proceeds to interrupt what he is doing and distract him with some halfway plausible excuse as to why he has to stop what he is doing and pay attention to her, which excuse is something that in theory should not irritate him, and he has trouble understanding why he is irritated, and why she lacks any real interest in the nominal justification that she supposedly has for demanding his attention and interrupting his activities. Supposedly she is helping him in a friendly pleasant nice way, though her "help" is hostile, nasty, angry, disruptive and entirely unwanted, and she ignores his forceful denials that he needs any such "help".
We need a society where women feel that if they act like Cathy Newman did in that infamous interview with Jordan Peterson, they might get slapped in the face, or sent to the kitchen and the bedroom and restricted from getting out except on a short leash. But if Jordan had responded to her bad behavior by getting in her face as if she was a man, they would probably have called security and tossed him out. Notice that whenever Jordan calls out Cathy Newman's bad behavior he looks away and gives a little laugh. If he called out her bad behavior while looking at her, it would have been socially unacceptable. What needs to be socially acceptable is that her husband should have given her a slap in the face for publicly disgracing his family with her bad behavior. The same government policies that helicoptering women into powerful positions are allowing them to act badly and destructively in those positions.
As affirmative action makes the differences between men and women starkly and dramatically visible to everyone, at the same time it makes it a criminal offense to notice, or even think about, those differences.
A woman in power is like a woman who finds herself the breadwinner, and her husband is a kitchen bitch, like a dog who finds himself the alpha male of the household, like a woman who intrudes into a males space and proceeds to feminize it and make it hostile to males. She behaves badly in an unconscious effort to smoke the alpha male out of hiding by provoking him to give her a beating.
Supposedly the reason there are so few female CEOs is because of evil sexism, not because boards keep appointing female CEOs and those CEOs keep driving their companies into the ditch. From time to time some big important Harvard expert informs us that female headed or female founded companies do better than male companies, but they will not show us their data, which data conspicuously flies in the face of common sense, anecdote, and casual observation. And if you ask to see their data, you are a racist sexist islamophobic misogynist, and the only reason you could be asking such an obviously hateful question is because you just hate women and are trying to harm them by asking hate questions about hate facts. Also, you are anti science and a global warming denier. We ignorant hateful hicks who keep asking to see the evidence that women can do a man's job are just like those ignorant hateful hicks who keep asking to see the evidence for global warming. We are anti science, because the science is settled.
Well, fortunately, a surprisingly truthful feminist chick went looking for the data.
Her graphics were truthful, but somewhat misleading, as she de-emphasized and partially hid the most important and dramatic datum, so I edited her graphics for clarity. The graphic at the start of this post is mine, but based on her data and graphics. Which got purged from the internet, not long after I posted this.