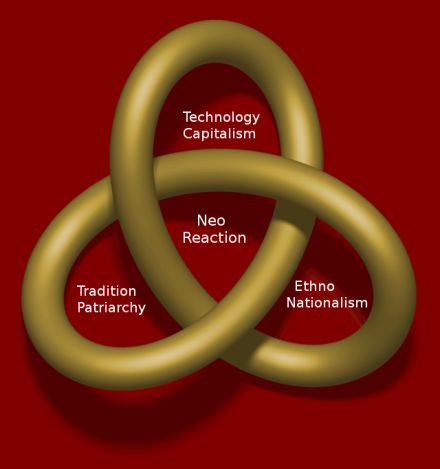 Technology capitalism: libertarianism
As the left gets ever lefter, it gets every crazier.  Since the libertarian tries to make a separate peace with the left on behalf of capitalism, its craziness necessarily flows into libertarianism.
Libertarians notice that capitalism, in particular the joint stock corporation based on double entry accounting, provides a great, humane, and highly productive system for creating wealth, advancing technological progress, and maximizing liberty. They therefore propose to accept the entire left wing program, only without its anti capitalist elements.  Supposedly the non aggression principle supports all left wing conclusions, except anti capitalism.
Thus a libertarian believes that people should be able to make binding contracts. So a young and naive woman can bind herself to an enormous debt for a PhD in hating dead white males and capitalism, a debt which cannot be expunged by bankruptcy
However, because leftists believe that female sexual autonomy is sacred, therefore has infinite utilitarian weight, absolutely trumping all other human, moral, and utilitarian considerations, a libertarian also believes that that same woman cannot bind herself to always be sexually available to one man, and never to any other, to submit to him, and to bear his children, in return for him protecting her, loving her, looking after her, supervising her, and fathering his children by her.
But it turns out that without the capacity to make a binding contract, it is mighty difficult to reproduce.  It also turns out that the reproductive contract has to be unequal.  A ship cannot have two captains, and neither can a household.
Similarly libertarians believe, that since all races are supposedly equal, unlimited brown immigration will not make white countries any less capitalist and less wealthy.  On the contrary, those brown people are not going to live on welfare and crime, but are supposedly going to replace the missing grandchildren and work hard to support white people in their childless old age. Supposedly, mass third world immigration will have exactly the same outcomes as mass white immigration did, and the fact that mass white immigration had those outcomes proves it. And if you have a problem with this proof, you are raaaaciiiissst.
Libertarianism tries to be left on everything except markets and property rights, but it fails.  Inferior people cannot be permitted the same freedom as superior people, because if you try it, you wind up with a nanny state for all rather than liberty for all.
A free society cannot function without sobriety and family values, so Libertarianism in practice winds up supporting a high-tax welfare-prison state to cope with all the human wreckage caused by excessive liberty. Welfarist libertarians try to hang on to some faint shred of libertarianism by proposing a guaranteed income in place of welfare, but they all know perfectly well that most of the poor remain poor no matter how much money you give them, so a guaranteed income would just be yet another addition to welfare, not a replacement.
Tradition Patriarchy:  Religion.
The religious want to go back to an idealized religious society, where a common faith provides asabiyyah . Not working.  The thrones are all vacant, the altars all desecrated.   Progressivism is well on the way to digesting what few remnants remain of the old religions.
Those who go to worship at desecrated altars wind up worshiping demons.  Reactionaries convert to Catholicism, notice that their Pope is a leftist, wind up rationalizing that racism is big problem and a huge sin, and that Saint Paul did not say what he said about the relationship of men and women. Bruce Charleton explains Saint Paul on women as a metaphor for the relation of Church and Christ.
This, of course, is the wrong way around.  The patriarchal family provides necessary psychological support for faith in the patriarchal god.  Matrilineal societies slide down the religious scale to primitive Zoism.
By and large, neoreactionaries who convert to Christianity wind up turning intellectual somersaults, because Christianity has been so thoroughly assimilated into progressivism that there are few genuinely Christian communities left.  God is dead. Being a Christian in today's west is like trying to be a pagan in fourth century Rome.  It did not work for Julian the Apostate, and it is not working for us.  After Darwin, hard to have a religion of the creator God.  Absent patriarchy, not going to have a religion of a patriarchal God.
Even if a supposedly neoreactionary Christian does not himself wind up helping the invasion on the US Southern border, he will tell you that the Christians who are assisting are wonderful.
Orthodox Judaism is going down the progressive digestive tract slower than Christianity, because progressives are embarrassed to arrest Jews for imposing Jewish roles on women, while they are not at all embarrassed to arrest Christians for imposing Christian roles on women, but it has been swallowed, and the digestive juices are starting to dissolve it.  Orthodox Jews still retain the rituals that remind them that in the Old Testament, women are property, but deny that those rituals mean what they mean.
Ethno Nationalism:  National Socialism
And similarly, too late for a monoethnic state.  One cannot make fish soup back into fish.  One can, however, have empire, one ethnic group more or less humanely ruling the others, giving each their own laws and respecting the customs of each.
Given the white tendency to theocracy, a more practical solution is that to get government employment, public office or go to the most prestigious universities (from which senior members of the government are recruited) one has to subscribe to the official religion, and the official religion is primarily white.  We kind of have this system already, in that to go to a prestigious university you have to submit essays showing your adherence in minute detail to progressivism, and your past activity in progressive activist groups – though this tends to select Jews at the expense of the main ethnicity, which undermines the intended cohesion.
A lot of ethnonationalists want a state that in which everyone within the borders is one ethnicity, and everyone within the borders votes and receives welfare. Creating such a state is likely to be horrifyingly bloody.  Further, being necessarily a process resembling total war, such a state is likely to wind up socialist, and socialism fails economically for reasons explained by Hayek and Mises, and colorfully dramatized by Ayn Rand.
And, supposing we created such a state, and supposing elections continued, the politicians would still have an incentive to bring in cheap voters to live on welfare.
Monoethnic government is lot easier and more workable.  Since in practice we somehow always wind up with monoreligious government, let us have an official belief system that in each country is primarily identified with one ethnicity, the major ethnicity of the better class of people in that country.
Tags: trichotomy