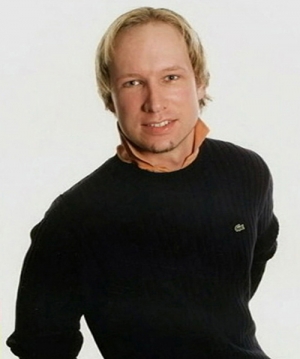 Anders Behring Breivik shot the organ grinder instead of the monkey, the puppeteer, not the puppet.
The government of Norway is electing a new people.  He did not like it.
Mencius Moldbug doubts that right wing terrorism can be effective, without a corresponding conspiracy within the government or within the armed forces.  I disagree. I think this action will be highly effective in influencing the government, but the government is more a symptom than a disease, the real disease being that Norwegians have lost the will to continue to exist, which problem terrorism cannot remedy.
Norwegians, and westerners generally, are failing to reproduce, biologically or culturally, for lack of fathers.  Men are not volunteering to get married, because of a society and legal system hostile to husbands and fathers.  The courts treat husbands and fathers as evil by definition, while television treats them as nincompoops.
High levels of illegitimacy and low levels of boys growing up with their biological fathers indicate a father shortage, which indicates that the marriage terms are too unfavorable to men to equalize supply and demand. The last time supply and demand was reasonably equal was 1830 or so, at which time marriage was severely and radically unequal in favor of men, and to the disfavor of women, marriage being a contract in which a women irreversibly gave up extensive rights over herself, her property, and her own body to a husband, in return for his irreversible commitment to support her and his children by her.
The natural state, absent contract, is that a woman can abort, or give up children, and the father, similarly, has no obligation to support his children or their mothers. Couples can leave this natural state only by formally witnessed contract, that is to say marriage, which contract has to have terms that reflect supply and demand.
Such a contract, to equalize supply and demand for fathers, cannot treat men and women as interchangeable, it must give men terms that are nearly the opposite of the terms it gives women – the woman must commit to love, honor, and obey.  Not that many men want to be pissed on the way a television dad gets pissed on.
The welfare state that Norwegians imagine will support them in their old age is collapsing.  To prevent the collapse, the state brings in dark skinned Muslims to replace the grandchildren that Norwegians are not having.  The outsiders, however, lack any inclination to support aging Norwegians, so the collapse  is accelerated rather than prevented.  Norway's overall fertility rate is replacement, which is very high by European standards – but that reflects the average over outsiders breeding far above replacement, and Norwegians breeding far below replacement.  Norway, like the rest of Europe, is suffering a massive increase in the never married and the divorced.
Norway has a generous welfare system supporting children, which is pretty good for people who are happy to bring up children on welfare, but not really a major benefit for a white middle class couple married to each other.  It winds up being another Jizya paid by Dhimmi to Muslims.