The Cathedral's position on right wing individualism is rendered obvious by the mindless conformity and rigid ideological uniformity of our tenured academics, and the robotic programmed speech of NPC leftists of twitter, and by the ever swelling apparatus to impose correct thought on everyone, for example the Human Resources Department.
But at the same time there is a problem with right wing individualism: Burke is the father of cuckservatism. The trouble with Burke is that the Burke of Liberty subverted the Burke of authority. When Burke condemned the French Revolution and assorted left anarchists and socialists, he had to invoke the throne and altar that he was otherwise busy undermining.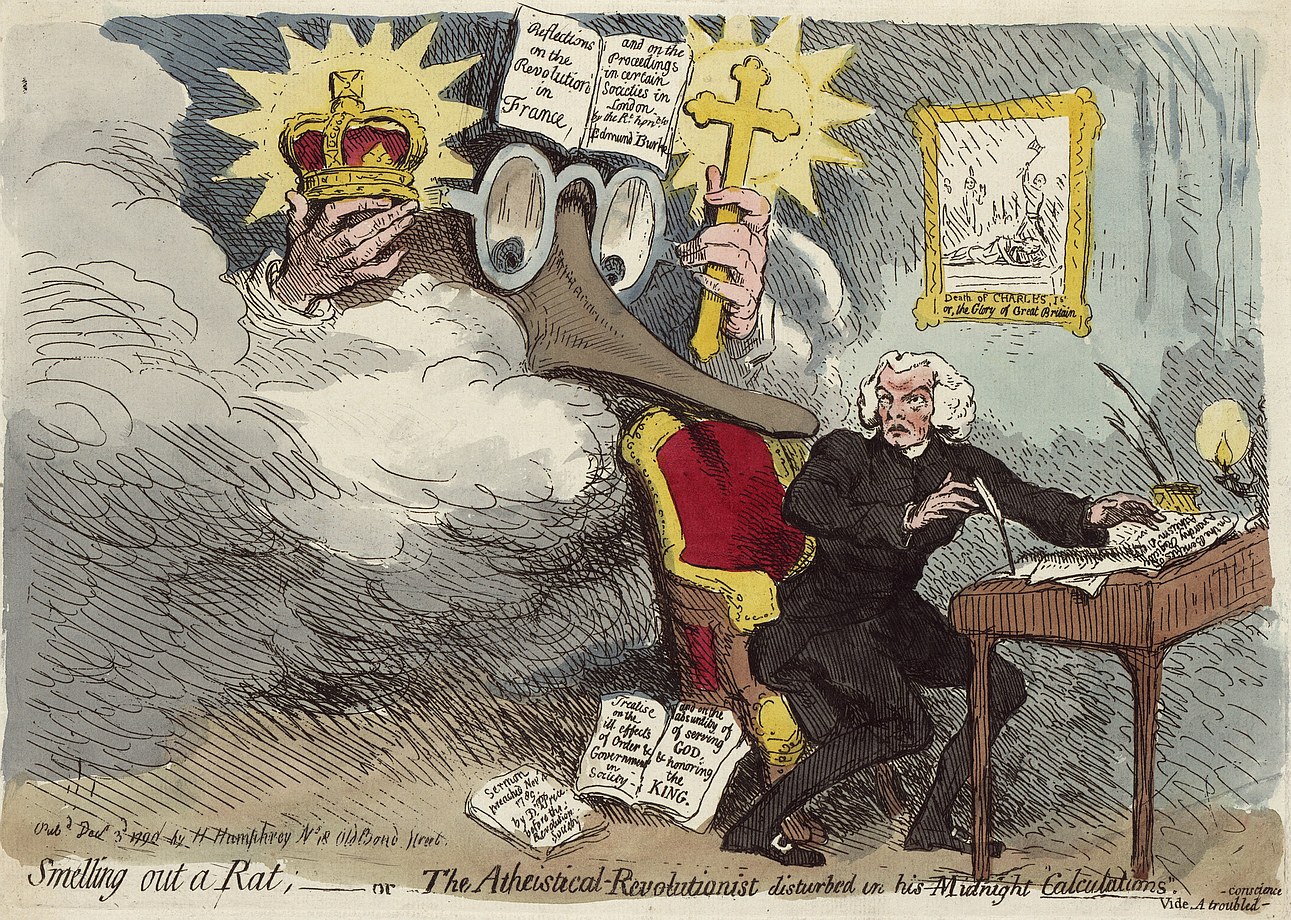 If no stationary bandit, going to have mobile bandits. If no state religion, going to have a worse state religion.
The text that the revolutionist is writing while interrupted by Burke says "On the benefits of atheism and anarchism". And he is deemed a rat because he identifies with the ideas and principles of Burke, and takes them to their logical conclusion, which conclusion horrifies Burke.
The picture is "titled "Death of Charles the first, or the Glory of Great Britain", the book says "Treatise on the ill effects of order and Government on our society and on the absurdity of serving God or honoring the King"
But that position is just the position that Burke took on the British Empire, applied to great Britain itself, applied terrifyingly close to home. And a terrified Burke promptly invoked the throne and altar that he had been industriously undermining, and continued to industriously undermine. The cartoon depicts Burke menacing the anarcho socialist revolutionary with a glowing cross in one hand, representing the state religion that Burke was probably an apostate from, and the crown representing the throne he was industriously undermining.
Burke engaged in lawfare against the East India company, launching a pile of frivolous charges against an individual member of the East India Company, in which he sought to find him guilty of governing India.
The crown had long ago given the East India company authority to make war and peace. Finding itself under attack by bandit kings, it made war in a horrifying fashion, employing devastating methods that frequently amounted to plunder, pillage, and ethnic cleaning. Victorious, it transitioned from mobile banditry to stationary banditry. Burke charged it, not with the horrifying things it had done as a mobile bandit, but with bringing peace, order and prosperity as a stationary bandit. The process was the punishment. The accused suffered more grief in successfully defending himself, than he would have if he had pled guilty and accepted punishment. Despite the accused being acquitted, Burke successfully established the principle that the British Empire was illegitimate and wicked.
Cuckservatives have no ground to stand on. If liberty, why should some people have property and others not have property, why should some people have authority and others not have authority, which is why Burke had to turn to throne and altar when viewing the catastrophic consequences of his own cuckservative doctrines. The Burke of liberty continually contradicts and subverts the Burke of authority.
But wholesale rejection of individualism is not an option, because then everything becomes a coordination problem, and coordination problems are at best difficult to solve, seldom have satisfactory solutions, and usually have only utterly disastrous solutions.
Consider the school lunch program: Turns out that it is much easier for a mother to feed her children healthy food than for a vast overpaid bureaucracy to feed an army of children healthy food.
At the same time, making individualism a religious principle leads not to freedom, but to totalitarianism, for freedom is secured by walls that separate the proper domain of my power and decisions from other people's, and those walls are an intrusion on their freedom to set fire to the supermarket and steal a case of beer, leading to the socialism painfully familiar to the Chinese who produced this video.
And, as Moldbug argued, those walls have to be ultimately backed by a sovereign. Anarcho capitalism will always be conquered by tribalism.
But who defends the walls against the sovereign – and against the propensity of that sovereign to find himself surrounded by vast and ever swelling bureaucracy? Burke has a case – but the verdict of history is that Burkean liberty necessarily leads to surrender to those that so horrified Burke, and Burke's ready resort to throne and altar foreshadowed the verdict of history. The inconsistency between the Burke of Authority and the Burke of Liberty reveals that one must devour the other. Conservatism has failed. Libertarianism reveals itself as unilateral disarmament, manifested by libertarians who cheerfully tell the baker "Just bake the cake" when a Christian baker is commanded to bake a gay wedding cake and cheerfully accept measures against husbands and fathers that would outrage them if applied against serial killers, libertarians who find it intolerable for president Trump to use the military to build a wall against invasion, but have no problem with using the military to build girl's schools in Afghanistan to teach nine year old girls to put a condom on a banana.
Cuckservatism seeks to preserve the social technology that the restoration secured – while abandoning the principles of the restoration. This fundamental inconsistency bit Burke, and it continues to bite his successors. Conservatism has failed, endlessly surrendering. There is no alternative but to return to the throne and altar that Burke so readily returned to when order was under threat. Conservatism has failed. Libertarianism has failed. Only throne and altar can save us.
The alternative to throne is not liberty, but rather anarcho tyranny, a thousand Kings three miles away instead of one King three thousand miles away. The alternative to state religion is out of control religion, the social justice warriors.
Reaction will be implemented by reactionary methods, not by promising fifty one percent of the voters more bread and circuses. The cycle of history is that democracy gives way to the rule of one man. The end of the democracy draws near, the only question remaining being how many will be murdered in its death throes. That one man will find that guns do not suffice. He is going to need a priesthood, an official religion consistent with the rule of one man. Those who preach that the ruler rules by the will of God are in the running to be that priesthood.
Current technology is that a handful of able, well trained well equipped warriors can easily handle a mob of any size, and have little difficulty with a horde of poorly trained conscript cannon fodder. Our technological situation is analogous to what it was when the armored knight on the warhorse was the ultimate decider of battles. But guns alone cannot rule. Ideas are more powerful than guns. Our ideas are appropriate to the death throes of democracy, and to current military and information technology. Recent events have demonstrated that elections have already become largely irrelevant. Expect each election to be even less relevant than its predecessor. When the permanent government decided to ignore Trump, it decided to saw off the branch on which it sat. As Trump needed, and successfully used, the Federalist society, and the Federalist society successfully used Trump, the dictator is going to need us.
The recent parade in Italy reflects the increasing mass penetration of our ideas, in the meme of Emperor Trump, and the celebration of divine right warrior rule in the song Carolus Rex. Supposedly this is mockery of Trump – but you don't mock by faithfully reproducing memes circulated by his most enthusiastic supporters at twenty times lifesize with loudspeakers blaring.
We are intellectuals, and the meme warriors disown intellectual analysis for meme warfare – but their memes encapsulate our ideas in their simplest and most compelling form. Meme warriors are our footsoldiers. If Trump fails, someone is going to succeed – the only question is how many will be killed before the return to simplest and most fundamental form of governance. The social justice warrior is trapped in a holiness spiral, and the position that all white males need to be killed is the next step in ever greater holiness. Let us hope we get a more stable form of governance before that happens. But sooner or later, and not very much later, we are going to get a more stable form of governance. Conservatism was born cutting its own throat. Libertarianism has surrendered. All that remains is reaction or socialist democide. Worst case outcome is socialist democide followed by reaction. We hope for a reaction that restores the social technology that has been destroyed, we hope for the restoration, and intend to provide an idea system that will make that reaction more stable, more secure, and less bloody. Restoration is the idea system that can provide the legitimacy that will make the coming dictatorship secure, peaceful, and more comfortable for everyone.