The fed is printing a pile of money, and what is happening to that money is as obscured and obfuscated as the claims about inflation.
We have for some time been seeing shortages of critical products, typically special products with sticky prices. A contractor cannot get his final payment for lack of a three hundred dollar part, and goes bankrupt. These shortages are increasing and we are now starting to see shortages of basic products, the most basic of them all being labor itself, and very high inflation in products that do not have sticky prices, such as lumber. This prefigures a lot of inflation already baked into the cake, which inflation will greatly exceed inflationary expectations, which are low due to normality bias. There has been quite a lot of inflation lately, considerably exceeding inflationary expectations. The shortages and the inability to maintain monetary discipline which underlies those shortages prefigure a great deal more inflation, exceeding inflationary expectations even further.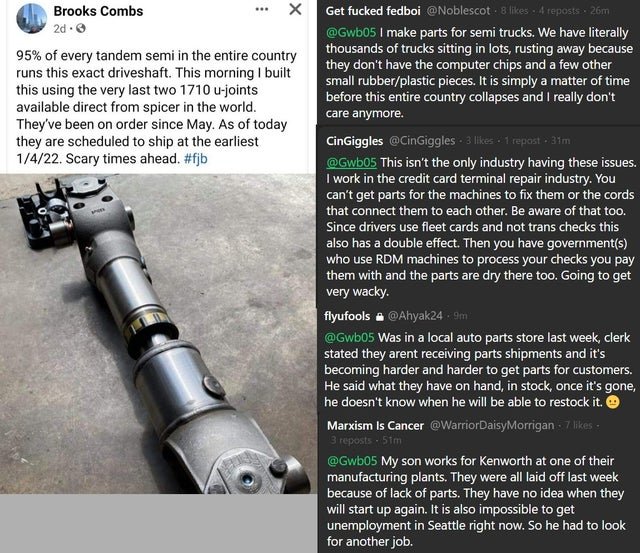 Hat tip Pseudo-Chrysostom for the image.
The official inflation numbers have long been detached from reality. They have now, rather suddenly, become rather more seriously detached. They are about to rapidly become a great deal more detached.
The underlying cause is collapse of cohesion and discipline among the elite. They are just unable to stop all sorts of people helping themselves to the printing press, which lack of control and discipline prefigures hyper inflation – not tomorrow, not probably next month, probably not next year or the year after, but not far off.
Hyperinflation does not happen all at once. It starts with wave of startlingly bad inflation, then a wave of relative stability, and people think normality has returned. But it has not. There is another wave, and another, each with more inflation than the last, each with more rapid inflation than the last, and the waves coming closer and closer together, finally blending into one continuous wave until no one knows what prices should be, and the money just stops being useful.
Asset prices are inflating, as people with access to easy money buy real assets, but in the final stages of inflation, asset prices no longer keep up with inflation, because the money ceases to be useful as a measure of value, and assets are illiquid. Someone has a trillion dollars, is not sure whether he should invest in a house with it buy or a hamburger. He is hungry, so he buys the hamburger.
Gold and crypto is hedge against hyperfinflation. Anyone who buys bitcoin intending to sell it for fiat money is a fool,, because investing with the intent of selling presupposes that it is a bubble. Outsiders cannot profit from a bubble. You cannot get out of a bubble sooner than everyone else, because by the time you know it is time to get out, everyone also knows it. (Unless of course the government is the buyer of last resort, or is funding wetbacks with no id, no income, no job, and no assets to take out million dollar mortgages, as in the great Minority Mortgage Meltdown) The primary argument for bitcoin is that fiat is a bubble, hence the hodl strategy. Pay no attention to the latest news, because you know the final destination. Dips are a buying opportunity, assuming the hodler noticed the dip, which he probably did not.
When one does book keeping and accounting, one wants the entries in the assets and liabilities column to be as directly as possible connected to real things that have real value. In contrast, the fed balance sheet is unreadable, and its flows incomprehensible – this has gone beyond normal government incompetence and looks more and more like three card monte. The budget and the debt limit and all that have become as meaningless and irrelevant as the Queen travelling in a stage coach to open the British Parliament.
Silver, these days, is an industrial metal. In the long depression, it was spontaneously demonetized, because people used banks and banknotes for small transactions, and it has been steadily demonetizing further and further. In a hyperfinflation, it might remonetize for transactions of moderate size, but I don't think so. Crypto currency renders it irrelevant.
The real value of silver relative to other resources, like oil and iron, is likely to remain approximately stable, but as people see what is coming, the real value of crypto and gold, relative to resources and goods, is rising, with crypto rising far faster than gold. If, as I think likely, crypto currency results in the demonetization of gold, gold is going to fall in real value relative to resources and goods a very long way, while silver will remain relatively stable. Stability sounds good, but you will not be able to buy food, guns, and ammo with it.