The world is going to end soon unless drastic climate action is taken.
Well then, how soon?
In the year 2000 – oops that report is thirty years old.
In the year 2010 – oops that report is twenty years old
In the year 2020 – oops that report is ten years old.
It is definitely going to end the year 2030.
That is definitely right. All scientists agree. It is the scientific consensus, and if any scientists fail to agree, they will lose their jobs.
If you doubt it, you are anti intellectual and anti science.
How much did temperature actually rise in the past forty years?
Which looks indistinguishable from random variation well within the normal range.
Assuming that the change is real, rather than random variations similar to those that have been going on for centuries, it is not humanly perceptible.
How has temperature changed in the past?
In order to figure that out, need to use proxies, and since using one proxy for the present, and a different proxy for the past gives unlimited freedom to cherry pick results, have to use the same proxy for the present as the past.
In a multiproxy reconstruction, you are necessarily adding apples to oranges, and even if you are being honest, there is a lot of room to get whatever result you want. And the "trick to hide the decline" was very far from being honest.
Individual proxies never show a hockey stick, and seldom show the present warmer than the medieval climate optimum. But somehow, when you put a lot of non hockey stick proxies into the sausage maker, out comes a hockey stick. Or your paper will not pass peer review, and you lose your tenure.
The best proxies are those have high temporal resolution (as for example Law Dome) and that give continuous coverage from the distant past to near the present. Such proxies are usually ice cores. Ice cores have been taken from around the world, and they show nothing unusual about recent temperatures. It has been cooler, and it has been warmer. Temperatures have risen faster in the past, and temperatures have fallen fast in the past.
The best ice core is the Law Dome ice core, because of rapid ice formation and great depth of ice.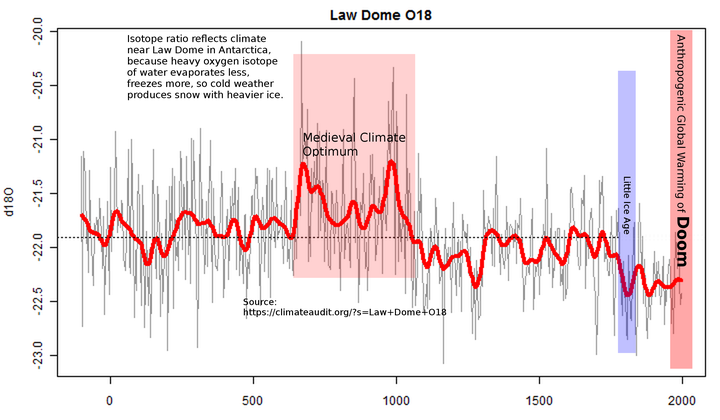 All the others show roughly similar results. Some show more warming, some show more cooling but none of them show unusual warming, and none of them show a hockey stick. They show the climate has always been changing, and oftimes, changing a lot more than it is changing now, and most of them show a medieval climate optimum far warmer than the present day.