I had hoped for a self coup making Trump King and erasing the constitution by now, but he is making significant progress. Maybe we will see a self coup on his third term.  He is not yet in control, but he is definitely biting the permanent government at the edges.
Protecting American Workers
Trump killed the Transpacific Partnership, killed the Paris Treaty.
The Transpacific Partnership was not so much a free trade agreement as a system of economic regulation by the "International Community".  Free Trade for corporations big enough to own a skyscraper in a major city and fill it full of lawyers. Lesser businesses would find themselves criminals because of a thousand pages of regulation that no one reads and no one understands, least of all those enforcing it.
He has "reopened" negotiations on NAFTA and, surprise surprise, the negotiations are not going too well – looks like NAFTA is going to die, or else be radically modified in favor of the US.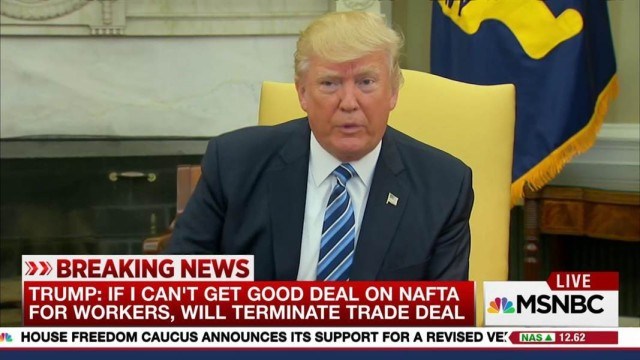 The biggest issue is that Trump wants forty two percent of a car to be built in the US, to get NAFTA status in the US. At present, the rule is sixty two percent of a car built in the US, Canada, or Mexico. Which in practice means Mexico, in part because regulatory burdens and corporate taxes are highest in the US. Canada has the lowest corporate tax rates, but a higher regulatory burden than Mexico.
Trump obstructs H1B, the program for legally bringing in cheap workers from India and Pakistan.
DOJ files suit against company for not hiring Americans
US agency raids Indian IT firms
Silicon Valley Staffing Firm Charged, H1B Fraud
China, U.S. reach trade agreement on beef, poultry and natural gas
China opens rice market for US exports for first time ever
First U.S. Natural Gas Shipped to Poland
Trump slaps tariffs on Canadian lumber imports
United States and Mexico finalize sugar trade deal
Crude oil shipment from Texas opens new vistas in India-U.S. ties
Argentina agrees to allow first U.S. pork imports in 25 years
Companies behind Trump's $250 billion China deal
Fixing the economy
One important thing he is doing is fixing the economy, bringing back the flyover country jobs, the smalltown jobs, the lesser city jobs, that the regulatory state was systematically destroying.
When people leave flyover country to the big cities, they are outvoted by the horde of Democratic party voters imported to America to live on crime, welfare, and voting Democrat. More people in flyover country means more seats for Republicans, fewer seats for Democrats, increasing the Democrat problem that the horde of angry white hating criminals that they have imported to vote Democrat tend to cluster in certain locations that are already solidly Democrat. Obama used to dump Somali rapeugees on marginal electorates in flyover country in order to reduce this problem, but that program has of course stopped and those rapeugees are percolating back from marginal electorates in flyover country to big city electorates that are already solidly Democratic Party.
Pruitt on a mission to change the climate of the EPA. The ideology of Anthropogenic Global Warming is motivated by hatred of white men and the industrial civilization we created, and is a rationale for destroying us and destroying our civilization. It is evident from the Climategate files that climate scientists have absolutely no interest in whether the world is getting warmer or cooler, nor whether humans are causing it or not. They are after ammunition, not the truth, they are looking for any mud that they can hurl. The Paris Treaty disproportionately affected America because it was largely targeted at destroying flyover country.
Day One: Secretary Zinke Signs for Orders to Expand Access to Public Lands
Zinke Signs Secretarial Order To Streamline Process For Federal Onshore Oil And Gas Leasing Permits
Mulvaney: Obama Administration Had 'Secret List' of Regulations
Trump budget chief touts progress in rolling back regulations
Remember all those libertarians who told us that they supported sodomy, open borders, and race replacement, but they were supposedly totally opposed to taxes and intrusive economic regulation. Have you heard them praise Trump for cutting taxes and economic regulation?
No, they say Trump is the evil big government conservative.
Mick Mulvaney on the Budget, Congressional Scorekeepers and Staying Frugal
Research and Development Priorities. This prioritizes research towards questions that might result in prototypes and demonstrations of feasibility that entrepreneurs could develop for profit and jobs. This is a radical re-orientation from current priorities, which reward finding grounds to regulate private enterprise on real or imaginary externalities, which externalities connect everything to everything else, generating a flood of real and imaginary issues that make all matters too complex for human comprehension.
If an official scientist found something that expanded the power of the regulatory state, he gets cash and prizes, and anyone who attempted to replicate his results had better not disagree. Getting one's results made into regulation or government programs tended to constitute decisive evidence for the truth and correctness of those results, as in the infamous animal fat controversy. Testing the animal fat question was deemed immoral and dangerous, because we already supposedly knew the answer, though in fact there was no real evidence on the issue, just a "scientific consensus".
Trump Lays Out Plan to Privatize Air Traffic Control System
President Trump Announces "Massive Permit Reform" Push
Trump Signs Order Rolling Back Environmental Rules on Infrastructure
Trump vs. the Regulatory State
President Trump has proved to be a full-spectrum deregulator,
CFPB Now a Deregulation Department, Mick Mulvaney Staffing CFPB with Trump Loyalists The CPFB was a slush fund for the left. The CPFB would threaten to destroy people's businesses unless they paid off left wing activist groups. Thus it would destroy the productive jobs of whites, and create highly paid political activists. Fewer employed whites therefore fewer Republican votes, more highly paid political activists, therefore more Democratic Party votes.  Trump has done far more to defund the left than Reagan did. Similarly, the Justice Department settlement slush fund.
Rick Perry and the "Texas Approach" to Renewable Energy and Infrastructure
Rick Perry's Plans for US Energy Dominance
A Vision for American Energy Dominance
Trump approves US-Mexico pipeline: 'That'll go right under the wall'
Oil starts gushing through controversial Dakota Access Pipeline Notice the total lack of protests this time. The left's inability to marshal its usual rivers of meat is because Trump has slightly reduced their funding. Since funds for the left tend to get stolen by leftists, funding is not very effectual unless continually increased, thus even a small decrease radically reduces left activism.
DOE Announces $6.9 Million for Research on Rare Earth Elements from Coal and Coal Byproducts. It is only a tiny amount of money, but it is an important symbol. For the last sixty years coal has been so evil, racist, hateful, and low status that no high status person would have anything to do with it, but now a bunch of high status people will have to be associated with coal if they want to get some of that gravy. Also, rare earth elements are as high status as coal is low status.
U.S. coal exports soar, in boost to Trump energy agenda, data shows. Remember all those highly credentialed economists swearing that the collapse of the coal industry was a natural result of economic forces, not a regulatory assault by bicoastal elites who hate white men in flyover country and want to destroy their lives. "Trump is lying, those coal jobs are gone and are not coming back."
By the way, the U.S. has become the world's dominant energy superpower
President Trump's executive order will undo Obama's Clean Power Plan rule
EPA's Pruitt moves to roll back over 30 environmental regulations in record time
Trump's EPA To Repeal Obama's 'Waters Of The US' Rule http://archive.is/8SPGh
EPA chief says administration to roll back Obama's clean power plan
And these deregulatory measures are having the promised effect on the economy
Trump Cut More US Debt for Longer Period than Any President
Government spending as % of GDP down
Record 6M job openings, 6.8M Americans looking for jobs
Small business confidence spurring hiring and spending spree
Consumer confidence NOV 129.5 17yr high
Economy Reaches Its Potential Output
63.1%: Participation Rate: Trump-Era High
Fewest Jobless Claims Since 1973
2.2M jobs added since election
2017 Unemployment record low in 13 States
Summer Youth Unemployment Lowest Since 1969
Black Unemployment Lowest in 17yrs
Hispanic Unemployment all time low
Unemployment to drop: lowest since 1969
Manufacturing Expands at Fastest Pace in 13yrs
Summer employers hired American, raised wages
Recovery Trickling Down to Least-Educated Workers
Median Incomes Climb- First Since 2007
Job Satisfaction Highest Since 2005
Dow: first eight-quarter winning streak in 20 years
Stock market powers wealth to $96.2t
Ok, but what about an out of control judiciary continuing to flood America with criminals, terrorists, and Democratic Party voters?
Trump Is Rapidly Reshaping the Judiciary.
And the Deep State?
Sessions Declares Fight Against Elite Pedophiles Top Priority
While eyes are on Russia, Sessions dramatically reshapes the Justice Department
How the CIA Is Changing Under President Trump
DOJ will intervene in campus free speech cases
Trump Defied Bureaucracy to Advance Immigration Agenda
Haley cheers cuts to UN peacekeeping: 'We're only getting started' (UN peacekeeping in practice looks mighty like State Department terrorism)
US secures $285M cut in UN budget
Four charged with leaks from Trump administration
DOJ conducting 27 investigations into classified leaks
Sessions ask FBI for info on Uranium One
Sessions orders review after report Obama gave Hezbollah pass
Tillerson to shutter war crimes focused State Dept. office
It's a bloodbath at the State Department
Tillerson Tightens Limits on Filling State Department Jobs
State Department to Offer Buyouts in Effort to Cut Staff
Report: Trump plans to cut foreign aid, merge State and USAID
Ryan Zinke plans overhaul because Interior Department employees 'not loyal'
It is now a year, and still no wall
Final Panel in Upgraded Border Fence Installed
Army Corps starts pre-construction work on border wall
Texas Wildlife Refuge Prepared for First Border Wall Segment
Bill allocates $1.6 billion for border wall
Border wall prototype anti-climb testing begins
Feds take over Texas National Guard border mission
Border Patrol Morale at Highest Level
Border Crossing Arrests 46yr Low
Memo: ICE officers have free rein
Raids target suspected gang members
New crackdown on sanctuary cities
ICE wants smuggling charges on leaders of sanctuary cities
Denver To ICE: Stop Arresting Illegal Immigrants At Courthouse. ICE To Denver: Not A Chance
17 Texas sheriffs approved to partner w/ICE
ICE crackdown scaring families back to Mexico
Raids turn Oregon city into ghost town
Trump ends Obama-era delay tactic
'Extreme Vetting' for green cards
Sessions announces crackdown on 'so-called' sanctuary cities
DoJ Stands by Texas's Voter ID Law
New Order Indefinitely Bars Almost All Travel From Seven Countries
Trump takes more Christians than Muslim Refugees. Christians are being terrorized by Muslims. Muslims are not being terrorized by Christians. That is the way it always has been, even during the Crusades, when brave Christian knights actively defended Christians recently overrun by Muslim hordes. Why are we taking in Muslim "refugees" – oh yes, Christians might not vote Democratic.
Fewest Monthly Refugee Arrivals in August Since 2002
Trump signs order cutting refugee quota to lowest level since 1980
Trump Announces 'Extreme Vetting' Plans
Trump set to DEPORT 300,000 refugees
Trump to announce new refugee admissions cap, stronger vetting rules as ban expires
U.S. walks away from UN migration agreement
War on Guns
DOJ Halts Operation Chokepoint, Which was Targeting Gun Dealers
House approves concealed-carry reciprocity, gun bill faces challenge in Senate
War on men
Campus Rape Policies Get a New Look as the Accused Get DeVos's Ear
DeVos' meetings with 'men's rights' groups over campus sex assault spark controversy
Betsy DeVos Is Right: Sexual Assault Policy Is Broken
DeVos to Replace Obama-Era Sexual Assault Guidelines
---
This post stolen from Pastebinusername2017′