There is on the blogs a lot of debate as to when the idea of common descent and the tree of life originated – "genetic future", as usual, gets it correct, "Panda's Thumb" gets it correct, and "genetic inference"and "evolving thoughts" as always, get it politically correct.
From any political post of "genetic inference" and "evolving thoughts" you can deduce that they will lie about Darwin, and conversely from the fact that they are lying about Darwin, you can deduce their position on every question of political significance.
People attribute common descent to Darwin primarily because they hate Darwin and Darwinism, for Darwin and Darwinism is natural selection, a doctrine whose implications are disturbingly brutal, and when applied to humans, horrifyingly politically incorrect. So they pick up something else, almost at random – typically common descent and the tree of life – and call it Darwinism.
It is perfectly clear, and not an all controversial, that Lamarck and earlier thinkers proposed the tree of life – that animal species were related through common ancestors, and that the seeming gaps were the result of extinctions.
Here is an image of page 463 of Lamark's Philosophie zoologique, a table titled "Origins of the Various Animals".  This table is used on page 458 in a discussion of common descent: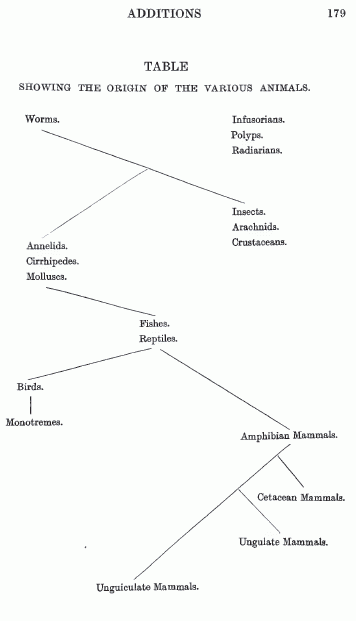 If he proposed multiple parallel origins, he would not have needed to explain the gaps. That he explained gaps as due to extinctions makes it clear his tree is intended as prehistory, as development over time from a single root, as well as a scheme of classification.
Darwin's contribution, as he makes perfectly clear, was natural selection. If you read Darwin, he does not treat common descent as a big new idea, but as something that is widely suspected, something that has long been in the air.
Darwin first starts talking of the Tree of Life in Chapter 11 of  "the origin of species" – and clearly believes it to be an existing concept, widely accepted among his audience, and already seen by them.
If the number of the species included within a genus, or the number of the genera within a family, be represented by a vertical line of varying thickness, ascending through the successive geological formations, in which the species are found, the line will sometimes falsely appear to begin at its lower end, not in a sharp point, but abruptly; it then gradually thickens upwards, often keeping of equal thickness for a space, and ultimately thins out in the upper beds, marking the decrease and final extinction of the species. This gradual increase in number of the species of a group is strictly conformable with the theory, for the species of the same genus, and the genera of the same family, can increase only slowly and progressively; the process of modification and the production of a number of allied forms necessarily being a slow and gradual process,- one species first giving rise to two or three varieties, these being slowly converted into species, which in their turn produce by equally slow steps other varieties and species, and so on, like the branching of a great tree from a single stem, till the group becomes large.
Which implies that people were drawing trees embodying both descent and classification before Darwin, and Darwin expected his audience to have seen those trees
Darwin's big new idea was natural selection, and all of the important and violently controversial ideas that follow from natural selection, such as sexual selection resulting in sex roles and sexually specific behavior, sociobiology resulting in an innate sense of property and intuitions about rights, races as the precursor of speciation, and so on and so forth.  From genocide to rape, you can read all about it in "The Origin of Species" and "The Descent of Man" – not to mention property rights, which some are apt to put in the same league as genocide and rape.
If a idea about biology can get you beaten up and denied tenure, it is Darwinism. If it cannot, it is not. Common descent will not get you into trouble, therefore is not Darwinism, but speciation gets hazardous. If you stick to speciation in three spined sticklebacks you may be OK, proposing clinal speciation for wolves and coyotes will get you in deep trouble – the cline between wolves and coyotes was exterminated for being politically incorrect, and no one dares mention clinal speciation in the context of primates.  Thus speciation, the origin of species, is Darwinism.  You can tell by the application of baseball bats as a method of debate.  Common descent is not Darwinism.  You can tell by the absence of baseball bats as a method of debate.
[In the comments, Constantinople draws my attention to the evidence that it is Buffon, Lamark's teacher, that first proposed the tree of life as prehistorical, and not merely classificatory, and also argues that anyone who depicts the tree of life should be presumed to depicting a prehistoric lineage, not merely a classification scheme, unless he explicitly says otherwise, which would put priority to way back before Buffon.  I however, am not so much interested in who had priority, but in present day madness and evil.  There is nothing particularly evil about attributing priority to Darwin, but it is definitely mad, and tightly correlated with evil political beliefs.  If it was possible to figure out who had priority for the tree of life, Darwin would have told us who had priority.]
Tags: the past keeps changing