The plan for Wu Flu bears a striking resemblance to the plan for a Green New Deal.
If sufficient human sacrifices are not made, dire natural disaster will ensue. Now that they have the Wu Flu disaster, seem to have lost interest in the Anthropogenic Catastrophic Climate Change of Doom disaster.
Some time ago Iran, noticing that Wu Flu is over, ended their lockdown. The media of course reports Doom. The wrath of the Gods has punished Iran for their impiety.
Has it?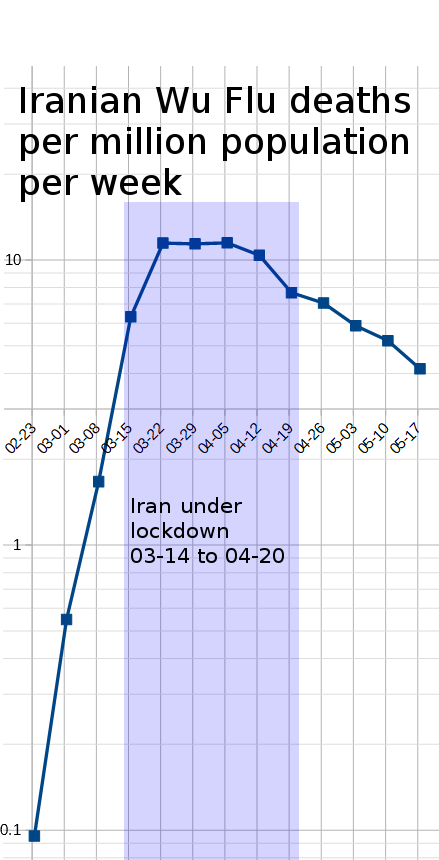 Looks like the lockdown slowed the rise very slightly, and ending the lockdown slowed the decline very slightly.
Wu Flu deaths in Iran grew by a factor of ten every eleven days till March 21st, remained at steady constant death rate to April 10th, and since April 12th the death rate has been in slow exponential decline. Imposing lockdown had little effect in Iran, and ending lockdown had little effect in Iran.
The decline is painfully slow, but it is exponential. Death rate in Iran falls by a factor of two every twenty eight days, which means that most of the deaths are behind them now.
Don't believe anything you read in the legacy media. They are evil, angry, hostile people who hate you, and tell you lies that will harm you. Everything you read in the papers is a lie by evil people who intend to harm you in any way that they can, who want you dead, want your children dead, do not want white people to have sex, and especially do not want white people to have marriage and children. The reason the news does not cover hate crimes against white people is that they give each other high fives whenever the hatred that they spread against white people results in white people being murdered or driven out of their homes. They celebrate every time one of our warriors is killed in pointless endless wars that they instigate against people far away, in lands of which they know nothing, and when the warriors come home prosecute our warriors for war crimes because the warriors had to defend themselves against enemies out of uniform hiding behind women and children.
They hate us, they hate you, and they hate themselves. Hatred and evil consumes them and drives them mad.
What appears in the legacy media are the ravings of evil angry dangerous madmen, and they only matter if the madman is dangerously powerful.
If any commenter uncritically presupposes that anything that appears in the mainstream media bears any connection to reality, other commenters are likely to get rightly angry at him. The legacy media only tells the truth when half the truth is useful in getting people to look away from the lie. When they tell the truth, it is packaged in frame that says "Pay no attention to the man behind the curtain".