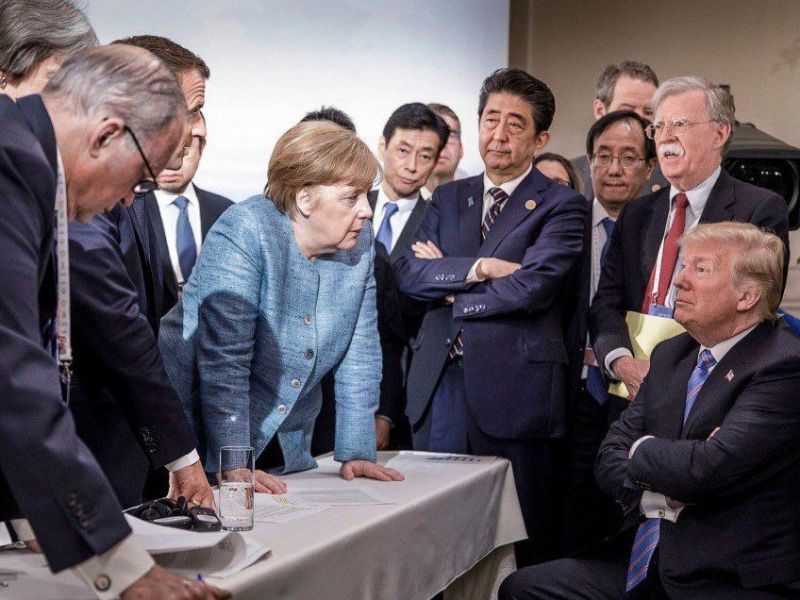 Naturally the world press attempted to frame this as Trump taking a humiliating beating like an errant schoolboy.
But …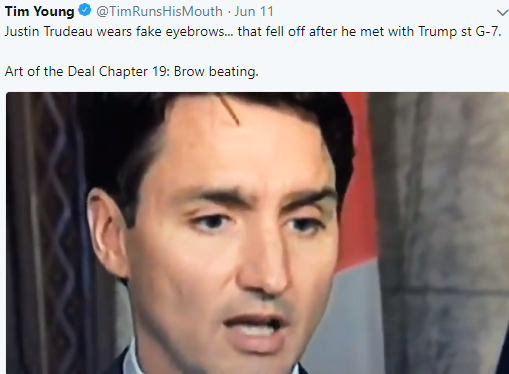 But the frame fell off with Trudeau's eyebrows.
Trump targeted Trudeau in particular, not because of anything he said, that was just an excuse, but because the Canadian economy is the most vulnerable to a tariff war with the United States. The fake eyebrows were a visible manifestation of less visible weakness. A weak country produces, and is produced by, weak men.
Which brings me to a far more important conflict: The president's struggle with the presidency.
The left seemingly holds all the cards. Christianity has surrendered to the left, and is dying for its own sins, for its heretical endorsement of vile sins. The left control every institution. Surely it is all over?
Well, maybe it is all over. On past performance the left, being macro scale entropy, is never defeated until they start murdering each other in large numbers, or until very few people remain and alien outsiders move in on the vacant lands.
But the left is vulnerable because incohesive. Because the left is entropy manifest in the form of people and political action, they have no cohesion, which leads to them always being out holied by even crazier leftists, the latest big leftwing projects being genocide of Christians, and boys changing sex before puberty, which is currently being promoted in comics and television cartoons, but also leads to them falling apart when opposed by a strong leader. They have a leadership vacuum, made manifest by Obama, Hillary Clinton, and Angela Merkel. The left wing tendency to absolute dictatorship is their solution to the terrifying entropy of leftism, their solution to their fear of each other, their solution to their endless and increasingly dangerous struggle with each other. They wind up with despotism as a desperately needed substitute for strength and unity.
In so far as they have unity at the moment, it is because their top people have blackmail material on each other. If Trump can get a decent prosecution going of a few mid level leftists, they are going to start singing on each other, the way they keep expecting Trump people to sing when they launch spurious prosecutions against them.
But that is a coup complete problem. How does Trump get a prosecution going, when the criminals are the Department of Justice and the FBI? On the other hand, as we approach the left wing singularity, coups become increasingly probable.
If he gets a good prosecution going, he will then own the presidency. But hard to get a good prosecution going until he first owns the presidency.
If Trump pulls off an autocoup, the next big problem will be making it permanent. The presidency is too vast and sprawling to be easily controllable, thus tends inexorably to entropy, hence leftism, and leftism tends ever leftwards. To make an autocoup permanent, Trump will have to disempower almost all of the presidency. After an autocoup, if the presidency remains vast, and vastly powerful, it will continue to work to disempower the president and his successors, though more slowly, in a more furtive fashion, and with less conscious intention.