Somewhat after the last minute, they have proceeded with the real case against Kyle.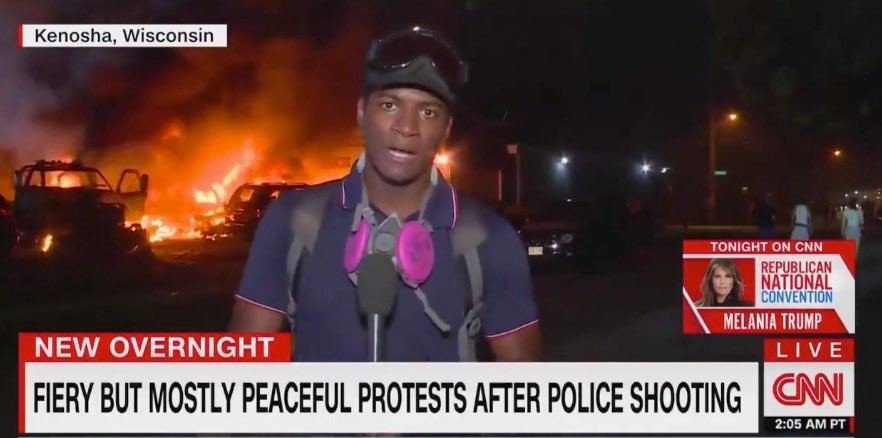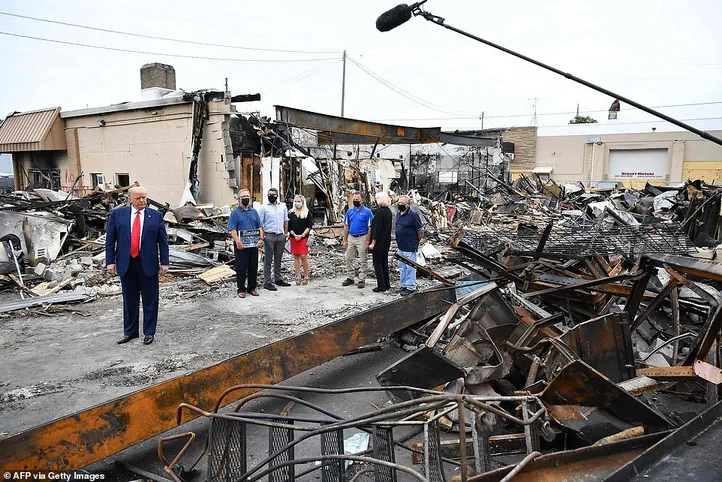 A bunch of peaceful protestors peacefully protested by smashing cars and setting buildings on fire.
The militia showed up toting guns, Kyle among them, to stop this.
The peaceful protesters felt this was extremely provocative.
Kyle saw a fire, and unwisely went towards it alone carrying his gun and a fire extinguisher. Ziminski was smashing up cars, and either Ziminski or Rosenbaum or both had lit the fire – we know Rosenbaum had lit other fires.
The prosecution claims, on quite improbable grounds, that Kyle pointed his gun at Ziminski. According to Kyle's testimony, he did not notice Ziminski until Ziminski started shooting at him, but under the circumstances Ziminski would feel threatened by an armed militia man showing up while he was peacefully smashing cars and so forth. He would feel as if someone was pointing a gun at him and suggesting that he stop peacefully smashing other people's cars and peacefully setting other people's property on fire.
Provocation
It really does not make any difference whether Kyle pointed the gun at him or not. If you are peacefully protesting, armed militiamen are threatening.
We have no reason to believe that Kyle pointed a gun at Ziminski. We have strong reason to believe that this incident started with Ziminski firing warning shots at Kyle, or shooting wildly at him and repeatedly missing. But the prosecution theory is that this incident started with Kyle provoking Ziminsky, which he indeed did, and thus that Kyle had no right to self defense, because the incident was started by Kyle and the rest of the militia provoking peaceful protesters.
There the protesters were peaceful destroying aggressive hostile capital, and the militia provoked them.
Therefore attacking a militia man was totally legitimate.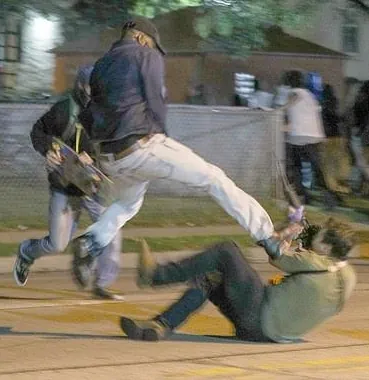 And, because provocation, they had every right to attack the militia man, and the militia man no right to self defense.
Yes, this is the prosecution theory – and this is the theory of all those arguing that Kyle is guilty. This is not the Babylon Bee.
The bottom line argument is that the militiamen, Kyle among them, started it by inhibiting peaceful protesters from peacefully protesting.
Kyle was there to help protect businesses: Provocation.
We need to think ourselves into our enemy's shoes. If you know the enemy and know yourself, you need not fear the result of a hundred battles. If you know yourself but not the enemy, for every victory gained you will also suffer a defeat. If you know neither the enemy nor yourself, you will succumb in every battle.
The enemy does not know that wealth and value is created. He thinks it just springs forth from the fertile soil, and evil capitalists lock it up. The enemy is a chimpanzee wandering in the urban jungle. So when he destroys stuff, he is doing a good deed and should be commended. When he prevents the creation of wealth, as with Biden's moves against oil production that have sent the price of fuel skyrocketing, he is redistributing it back to the the rightful possessors.
The enemy saw the destruction of Kenosha as constructive, rather than destructive. They are doing it so that our grandchildren will have a future. (They don't have grandchildren – they are doing it for us.)
Envy is wanting the successful man to not have what he has. The envious are supposedly motivated by wanting the other guy's stuff, but they want to smash it, rather than take it.
If you actually want the same kind of things the other guy has, rather than wanting to take what he has away from him, you are going to admire and respect, which is going to facilitate you learning from him and imitating him. If you want to destroy what he has, you are going to hate. Admiration and respect facilitates learning and imitation. Hatred and contempt facilitates destruction.
Critical race theory seems to be tightly focused on the tale that all the science, technology, and industry of western civilization was stolen from the brave and stunning warrior women of subsaharan Africa.
Envy is hating and despising who has nice things for what he has. The normal behavior is to admire and respect someone for what he has, which facilitates imitation, and thus facilitates getting what he has. Admiration of people who have what you want is adaptive. As I am found of pointing out, a hot wife and a flying palace helped Trump get votes. Envy is uncommon, pathological, maladaptive, and self destructive, characteristic of broken people with a death wish. Our enemies are broken people who want to die and want the world to die with them, hence the popularity of Satanism among them.
The faith of the Cathedral is largely a collection of rationales for envy. So the woke tend to be people who suffer passionately and extraordinarily from envy. So, peaceful protest. Carrying a gun to protect businesses is provocative.
.