Namefag Yarvin predicts fifty years of the Brezhnevian stagnation.
I predicted that that revolutionary change would ensue as fast as Russia, where the Kadets were in power and then out of power so fast it gave them whiplash. I predicted that the Republicans would never win another election in America, and they just won some, falsifying my prediction.
But …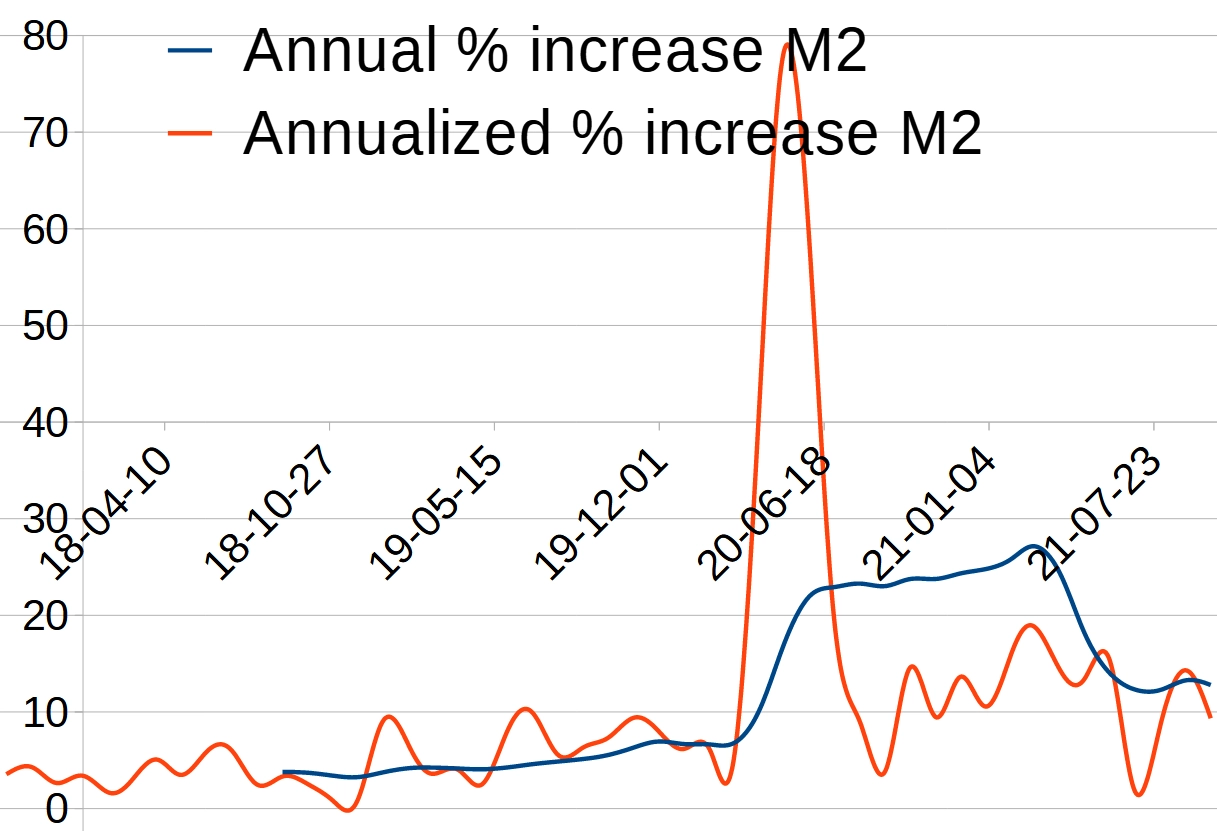 This is free money being handed out to friends of the federal reserve.
We are not currently on the course the Russian revolution took. The American deep staters are not the Russian deep staters and the Democrats are not the Kadets, to my surprise and contrary to my predictions. We are however on the course the French Revolution took, and the Democrats may well be the Girondists. The Girondists lasted a lot longer than the Kadets – but they went to the guillotine soon enough.
Naturally the politicians want to hand out a whole lot more free money. This is the path the French Revolution walked, for with with the removal of the King, power fell into far too many hands. Far too many people could stick their hands into the till.
The spending part of the "Build it back better" bill will spend about four trillion a year, about 20% of M2 per year.
The taxes that are supposed to pay for this are a soak to the rich package similar to disastrous soak the rich packages that have been tried over and over during the last sixty years in country after country.
There are plenty of unproductive rich whom you would really rather not have around, for example the friends of the federal reserve, and most of the FIRE economy, the blue state economy composed of Finance, Insurance, Real Estate, and Education. The dissolution of the monasteries was a really great and highly successful soak the rich program, and we urgently need another along the same lines, but, needless to say, this program is going after the productive rich, primarily Musk and people like Musk, rather than unproductive and useless rich, and the record of similar programs over the past sixty years is that they result in a major drop in revenue, so the taxes that are supposed to pay for this, rather than raising money, will probably,set us back another trillion or two. They are based on hatred and envy, not rational economic calculation.
Even on static analysis, ignoring the fact that you always get more of what you subsidize and less of what you tax, they don't pay for the program, but on static analysis, they will raise about two trillion a year for a four trillion program, meaning that if the fed puts its friends on short rations, and static analysis was correct, you would only have the money supply increasing at about ten percent a year. Which is still considerably more than siegnorage will bear. But if, as is more likely, they lose money rather than raising money, and if, as is likely, the fed is unable to put its friends on short rations, then the money supply will grow at about forty five percent a year, which is roughly similar to what happened following the French Revolution.
What happens when a government tries to rely on seignorage, on printing money, more than seignorage will bear?
Well at first people think the shortages and scalper prices are a temporary abnormality, and they horde money, intending to buy stuff when prices and supply returns to normal. After a while inflationary expectations set in, they realize prices are never going to return to "normal", and they start treating money as radioactive. As soon as they get some money, they immediately convert it into something real, for example brandname goods in sealed boxes that they can sell on ebay, or something that is not being rapidly debased, such as bitcoin. And when this happens, the government can no longer benefit by debasing the stock of money, because the real value of the stock of money collapses, and there is not much left to debase. Then you get hyperinflation.
Will we get hyperinflation? Maybe not, but if we don't, it will be because power that is at present dispersed into far too many hands is grabbed by a single hand. Which single hand will likely have power grabbed from it in due course by another single hand.