Christian evangelicals have a one sided love affair with Israel. They love Israel, and Israel hates them.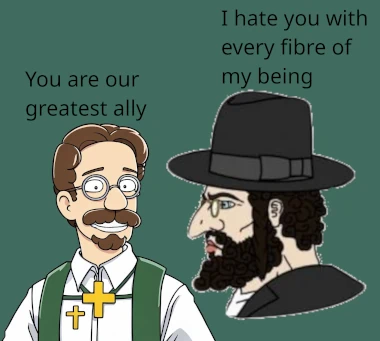 They misinterpret the Book of Revelations. The Jews have returned to Israel for another chance at redemption, which requires them to come to Jesus. The way the wind blows, they have returned to Israel for another tribulation. If America goes Christian nationalist, then Israel might go Messianic Jew, in which case a less unpleasant prophecy might then be applicable.
A faith is a synthetic tribe. When governments disintegrate, the most cohesive synthetic tribe tribe takes power, which is why in Russia the left minority (the Kadets) took power from the Tsar, a leftist minority of that minority (the socialists) then took power, a leftist minority of that minority (the communists) then took power, and leftist minority of the communists (the Bolsheviks) then took power. You always have an army, and you always have an official faith. In our case, an officially unofficial faith.
Christian Nationalism is right now by far the largest cohesive synthetic tribe, with ten percent of the percent of the population being strong adherents. In the event of a crackup, which looks increasingly likely with Global American Empire falling, we stand a good chance of taking power. Our adversaries will be the woke, who are the current ruling faith, the communists, and the Mohammedans.
Problem is that the most cohesive faction within Christian Nationalism expects to immanentize the eschaton, which is always a disastrous idea. It is becoming very possible that Christian Nationalists will take power in America, as our government is increasingly incohesive, foreshadowing a crackup, and the woke are becoming cynical about wokism, after too many U turns, too quickly. But, though Christian Nationalism is the most cohesive large group, and you need a large group to take power, a large group is too large to rule, and a smaller group within that group is apt to take power, proclaiming itself the executive organ of that larger group., as repeatedly happened during the Russian Revolution.
And a substantial and cohesive faction of Christian nationalists expect and intend to immanentize the eschaton. Which is always a disastrous idea. On the other hand, that faction tends to be passive. They expect Christ to do the heavy lifting.
Until the late nineteenth century, the Book of Revelation was generally not interpreted as Christ making the eschaton immanent. Rather, the prophesied troubles were put in the context of the eschaton. Some of the prophecies have been fulfilled, some have been fulfilled over and over and are likely about to be fulfilled again. It does not mean the eschaton is about to become immanent.
We have to do the heavy lifting.