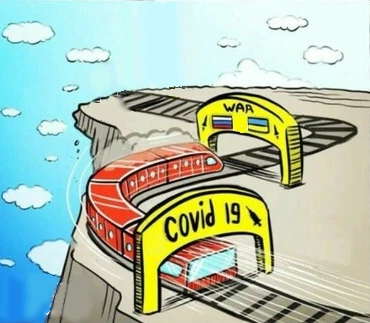 The Cathedral has abandoned the Awesome and Mighty Covid Demon narrative, and the innocent peaceable dark skinned joggers capriciously attacked by white predators for no apparent reason narrative, in favor of the universal support for war against Russia narrative.
You think censorship has eased? The internet connections with Russia are being cut.
A precondition for war with Russia is getting enough people to be inside the war bubble. YouTube is busily purging outside the War-with-Russia bubble videos, and has lost interest in purging outside the Covid bubble and outside peaceful-jogger bubble videos.
Still seeing piles of pro Russian stuff on facebook, twitter, reddit and youtube, but I also see the screws tightening. I expect that they will continue to tighten.
Thus the left singularity proceeds, but in a new direction likely to end in war.
Recollect that the ever leftwards tendency suddenly took a new turn in 1933, throwing first wave feminism overboard in favor of preparation for war and the total war economy. Instead of universal support for women's rights, there was universal support for a command economy. War ensued six years later, but the left singularity runs faster these days.
The Cathedral seems content to let Ukraine fall, but they are preparing for asymmetric warfare in the Ukraine against the Russians. One thing will lead to another, and the psychological preparation for one thing leading to another has begun.