American judges have been expanding the category asylumrefugee to open borders to the world, preparatory for rapid race replacement and white erasure in the US. Illegal immigration is now legal in the US, indeed a fundamental human right (unlike freedom of speech, freedom of religion, and the right to keep and bear arms) as it has been for some time in Germany and Sweden.
In response to this, Trump has promised to use the the military to defend our borders against invaders. The world is shocked by this terrible violation of human rights. The military should only be used for good nice kindly humanitarian purposes, such as bombing civilians in Libya to punish them for their disinclination to support a Cathedral sponsored color revolution.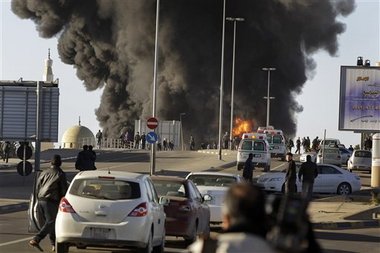 To use the military for selfish purposes, such as keeping hostile and predatory outsiders on the outside, is a clear violation of fundamental human rights recently discovered in the emanation of the penumbra of the umbra of the great and glorious US constitution. The US military should only be used for good and unselfish purposes, such as teaching Afghan schoolgirls how to put a condom on a banana and blowing up people who are insufficiently grateful for the benefits of freedom and democracy bestowed upon them.
If Trump keeps this promise, chances are he is also going to have some wall in time for the mid term elections. If he does not, he will not.
Keeping either or both of these promises is likely to lead to confrontation with the judges, as it violates the inalienable human right of South America and Africa to move to America to live on crime, welfare, and voting Democrat. 
In 2012, the Australian authorities escalated race replacement and the erasure of white Australia by legalizing illegal immigration through endless expansion of the asylumrefugee loophole, resulting in rapidly escalating flood of boats carrying illegal immigrants to Australia, similar to flood of boats now carrying Africans to Europe through Italy. The Australian labor party did everything possible to stop the boats, short of actually stopping them, and everything possible to discourage illegals from coming to Australia to live on crime, welfare, and voting for the Labor party, short of actually denying them Australian residence, welfare, and votes.
Supposedly this was the awesome power of the judges overruling the Labor Party government by allowing the asylumrefugees residence, welfare, and votes, and perhaps it was, but when power gave the asylum refugees them due process and thus treated them as citizens, rather than invaders, power was signaling to judges that it would rather like them to be made into citizens.
Tony Abbott was elected at the end of 2013 on a platform of stopping illegal immigration by military means. And, unlike Trump, immediately stopped it, turning back the boats,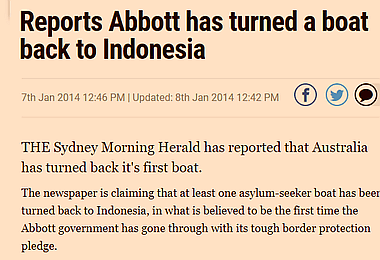 imprisoning illegals, and punishing people smugglers.
Which, of course, immediately led to lawfare.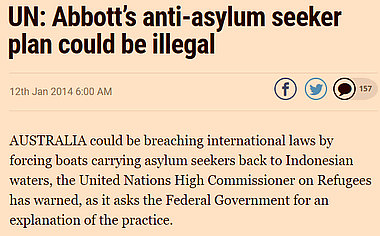 and confrontation with the judges.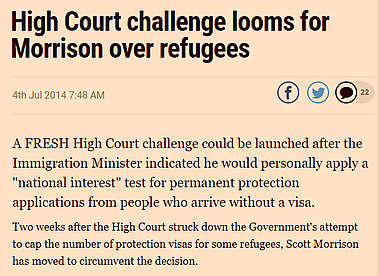 If the government cannot deny permanent visas to people who illegally set foot in Australia…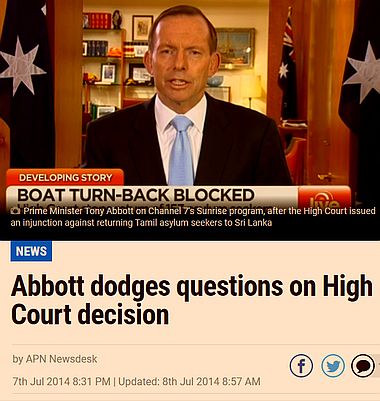 and if the government cannot turn back people coming on boats with the intent of setting foot on Australia illegally … then the borders are open.
It became apparent the one hundred and fifty three Tamil asylumrefugees were one were not in fact from Sri Lanka, but from Tamil State in India, making their claim of refugee status absurd.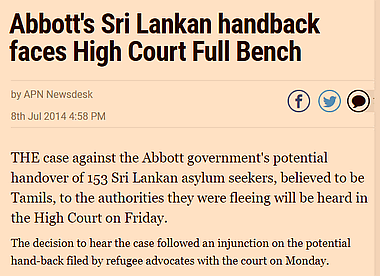 At the same time as this was happening, an illegal immigrant in Australia was getting due process, and of course, the courts ordered the government to give him a permanent visa. And the government did so.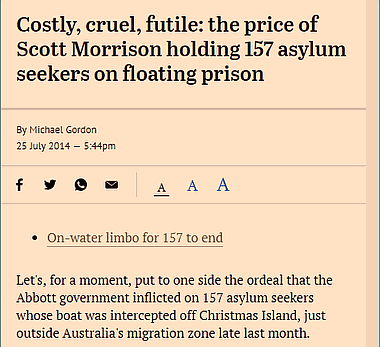 And those waging lawfare for open borders were gloating. They considered that they had already won, even though their pretext that these were refugees seeking asylum had already been decisively exposed, they did not care, no one cared, it made not the slightest difference to anyone.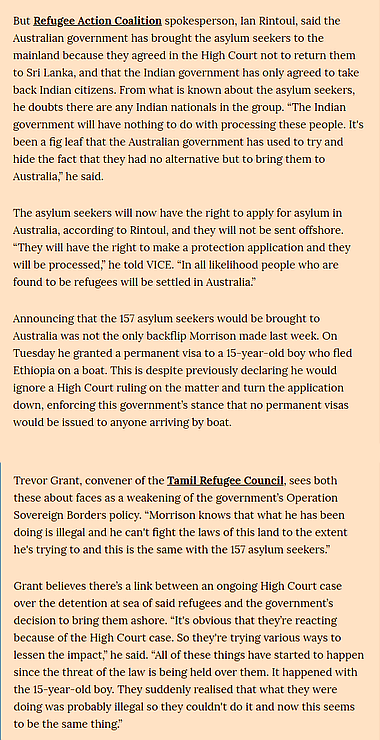 The pretext that they were using to open the borders had evaporated, yet they were still completely confident that they had won, that the borders were opening. They were every bit as much full of pious indignant righteous rage at the government denying Tamils from Tamil State entry, as they had been at the government denying Tamils from Sri Lanka entry.
Tamil state is, as it says on the can, an ethno state, thus a claim by an ethnic to be an asylumrefugee pitifully fleeing the ethno state of his own ethnicity is not believable.
But what is believable is that if the the voters are here, you can keep them here until they get to vote, that if they are here, you have the upper hand, and the people they are going to vote against have the losing hand.
This looked awfully like the collapse of the borders in the face of lawfare, like the government cucking out in the face of the awesome power of the judiciary. If a court order can stop the government from deporting people, then they have to go to Australia, and once in Australia, have to be given permanent visas, and once they have permanent visas, welfare and votes. If one illegal immigrant gets a permanent visa by court order on the asylumrefugee excuse, one hundred million black male military age Mohameddans screaming for infidel blood and white pussy can get permanent visas by court order – particularly as their claim to be refugees from each other's habitual violence is in fact true, unlike the transparently false claim to be a refugee from one's own peaceful ethnostate.
One might suppose that government cucked out in response to the court order, but it could also be that the court order was a response to it cucking out. Or, more likely, that both reflect power being applied behind the scenes. Or maybe they thought that due process would make it glaringly obvious that these asylumrefugees were not in fact fleeing persecution, having a perfectly good and reasonably well functioning ethnostate in which Tamils were the ruling religion and ethnicity, but that never seemed to matter to the judges before, and it seems unlikely it would matter this time.
If power signals it wants white erasure, then it is in your interest to feed your brothers and your children to the crocodiles, in the hope of being last to be fed to the crocodiles.
It looked like it was all over for white Australians, that they were about to become a permanently outvoted second class minority, hated and despised, permanently blamed for the massive dysfunction of the ruling majority, as South African whites are blamed for the failure of black South Africans, and light skinned Venezuelans blamed for the failure of darker skinned Venezuelans. Lighter skinned Venezuelans are getting Kristallnacht, and white South Africans are getting genocide.
And then Tony Abbot found his balls.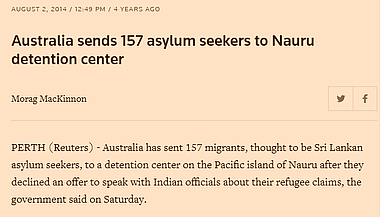 I earlier claimed that Tony Abbot did a Jackson. This claim was not accurate. But as we shall see, it is accurate to say that the courts ruled his actions legal only after he gave them the finger, and demonstrated he was not going to cuck out, and they then quietly reversed, forgot about, or reinterpreted, all their earlier precedents opening the borders.
In the face of a court hearing questioning whether he could imprison or deport the one hundred and fifty seven Tamil Asylum refugees without judicial process, and in the face of a court order prohibiting him from deporting them to Sri Lanka, he proceeded, three days before the originally scheduled date of the hearing, to deport and imprison them in Nauru without judicial process, Nauru being a nominally independent state of the Australian empire, in the same way that Canada and England are nominally independent states of the US empire. Since a supposedly independent state was now imprisoning them, a court order saying that they could not be deported or detained would have no effect.
Which in theory, because Nauru is supposedly independent, is not quite doing a Jackson, but is a signal of intent to do a Jackson in effect. If the court says he cannot imprison or deport, he is likely to say: "Too bad, how sad, they are in Nauru now, and the Nauruans are mistreating them, but alas, I have no authority to tell the Nauruans to let them go. Independent state. Do you doubt it is independent?"
Thus he did not pull a Jackson in the sense of ignoring a specific court order after it had been made. But he did pull a Jackson in that he signaled to the court that if it gave a court order, that court order was going to be ignored.
And the courts, all of them, backed down.
As did the UN, the newsmedia, the professoriat, and the NGOs. Lawfare ended. And to this day, the Australian government can and does detain and/or deport visa runners without the judges interfering. Illegal entry, overstayed visas, and the like result in administrative imprisonment and administrative deportation, without judicial process.There have been no further lawfare dramas legalizing illegality. There was lawfare on anchor babies, children of illegals born in Australia, but that also was rejected.
No longer do those in the country illegally get permanent residence, let along court ordered permanent residence.  After this incident, the high court somehow decided to take a humbler view of its powers.  Maybe that was Abbot signaling in public by shipping them to Nauru, maybe something happened behind the scenes.  But lawfare largely went away, and what little lawfare happened, failed.
The program of white replacement and erasure continues, but considerably more slowly, and no longer by illegal immigration.